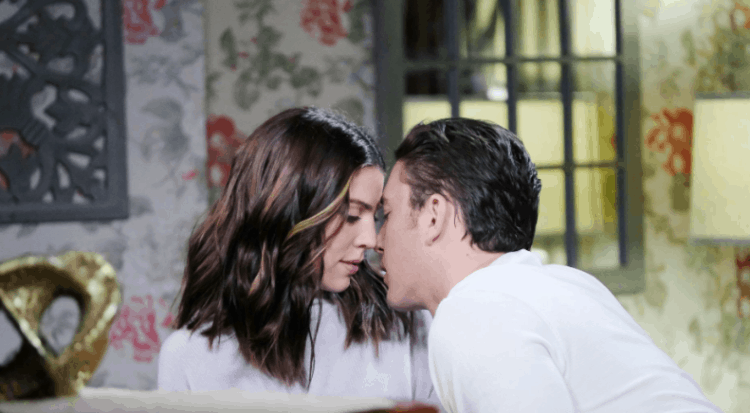 Days of Our Lives fans are not all that amused by the fact that Ben has not been able to get to Ciara yet. His sister is losing her marbles, and this is not a good situation. He's been begging Chad to help him, but Chad knows that going into a job with Ben is just another knife in the back of his wife. However, Ben is certain that he knows that he can save both Ciara and Chad's baby girl, Charlotte, if only Chad will help him out in this manner. But we don't know that Chad will do this. Abby is already struggling to forgive him for what he did to her when he went into business with Ben to have her kidnapped and brought to him to keep her save from Stefan, and he is certain that another working relationship with Ben is going to forever send her into the other direction of their marriage.
Rafe is doing all he can to help Kate, which means sitting by her bedside to make sure she's all right. He's committed to finding out who did this to her so that he can find that person and make sure that they pay. He's certain that this is connected to both Ciara and Charlotte's disappearances, and he's not going to allow this to stop him from making any mistakes in his future. He's going to do right by all of them, but he really needs her to wake up so she can share with him what she knows. It's all he's got at the moment, and he is not sure he can handle what is coming from this if she's unable to wake and share this with him. We can hope that she wakes up soon, and that they are both saved quickly.
What's Happening on Days of Our Lives
Could this be love? #DAYS pic.twitter.com/J1Dr6m8zqQ

— Days of our Lives (@nbcdays) February 12, 2019
There's definitely something there, if you ask us. But what do we know?
What's Next on Days of Our Lives
The most romantic week of the year. Get ready to be swept off your feet. Watch #DAYS, weekdays on NBC. pic.twitter.com/LiJof4pj8I

— Days of our Lives (@nbcdays) February 8, 2019
There is a good chance that today is going to be the day that Ben is able to save the woman he loves. We have no idea how this will go down. We don't know if he gets to convince Chad to help him, or if Kate wakes up and shares what she knows, or what. We just know that he will find her, and they will spend their time together as they are reunited. However, we have to warn everyone that there is really no good reason to feel too good yet. She's not out of the woods, and neither is Ben. Hope is still convinced that he is the reason her daughter was missing in the first place, and his sister is the one who did it. She's working hard to set him up, and we know that this is a problem for all involved. But, for now, we do think that there is something that will seem peaceful about their reunion in the moment.
And we hope that they find the baby, too. But we also know that there will be some help from Gabi to keep Leo distracted enough that Will and Sonny can spend some time together. While this will work today, this will only make things worse in the near future. They cannot keep this up for the rest of their lives, but they have to find a way to get this man out of their lives. Can they do it, and will we all decide we like Gabi again if she's able to help them do just that?
Stay tuned for more Days of Our Lives and be sure to check out TVOvermind daily for the latest Days of Our Lives spoilers, news, and updates.
Tell us what's wrong with this post? How could we improve it? :)
Let us improve this post!