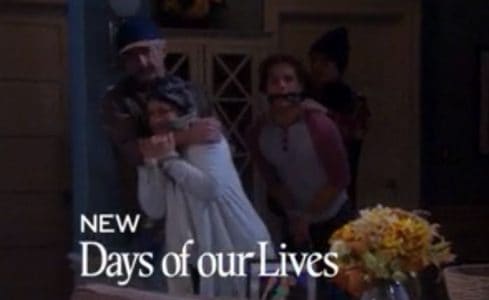 It's a big day on Days of Our Lives. With three dangerous criminals on the loose and terrorizing the entire city, it's difficult to find any good news in the world of Salem residents. Fortunately, we've found the good news and we thought we'd tease you with it just a bit. It turns out that Kayla is recovering quite nicely from her surgery, and she's going to actually go home. She's going to be sprung from the hospital so that she could get out, go home and spend the rest of her recovery period in her own bed, enjoying her time on her own. She's going to have a much better time of it than she has in the past, and she's going to see a huge improvement in her mood.
What might that improvement be? Of course she's happy to be home where she can get up, move around and she can get out from under the constant supervision of the doctors and her nurses — not that she doesn't adore them. It's just nice to be home. However, that's not what has her in such a good mood. It turns out that she's happy because Steve is with her, and he refuses to leave her side. She might have a difficult time moving on from all the upset and anger she has with her husband, but he is making it a point to prove to her every single day that he's there for her and he's making her a priority. He has vowed to stay by her side throughout her recovery and make it all better for her.
We already saw this week that Victor and Deimos are working together. They've made the decision to put aside their differences and their family issues to work together to capture three escaped convicts; Xander, Orpheus and Clyde. They are not going to rest until all three men are back behind bars and unable to harm anyone else. Will they be able to work together without making their already strained relationship even worse than it already is? Or will they find that their differences are just too great?