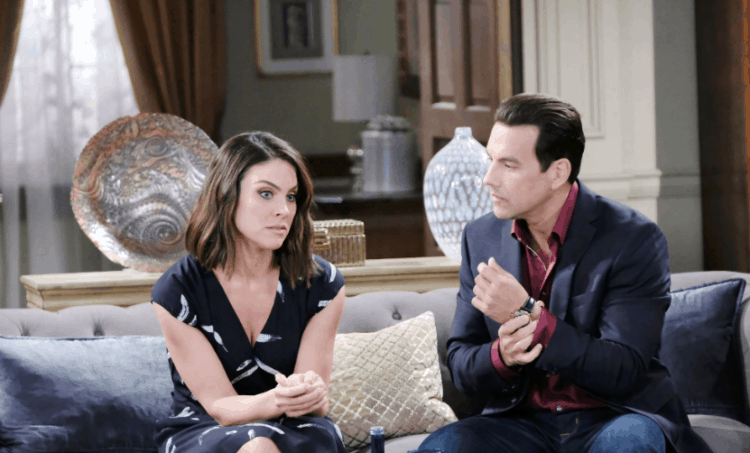 Days of Our Lives fans are not sure that John knows what to think right now. We were all watching when his wife's nurse came into her room and told him that it was Kristen who did this to her. That it was that woman who tried to kill his wife, but we all know it was Diana. Yes, the same Diana who is sitting there by his side as he mourns what is going on in his life. She is "there for him" as a friend in his time of need, but we all know that she's there for him because she just found out that he is the father of her son and that they might have a connection that they can take with them into the future. It doesn't matter to her that he is married or that he doesn't want anything from her. He only wants to be with his wife, but Diana wants more than that.
She has a plan, and she's working with her son to get it. Her son is making it very clear to Brady that he's so excited to be his brother in the worst possible way. He's making Brady feel like he is more annoyed than he has ever been, and we cannot get enough of that. We know that there is nothing worse than what they are going through right now with Marlena being the hospital, yet here he is making things feel worse with his bitterness and his bad attitude. We know that things will not improve for him in this moment, but we also know that things will not work out for Leo and his mother when John and Brady figure out what they've done to Marlena. They should watch their back in every manner of speaking.
What's Happening on Days of Our Lives
#DAYS star @ericmartsolf on Brady's Love Life, Getting (Another) TV Sibling & 'Passions' Memories https://t.co/uPdJPXXTZo

— TV Insider (@TVInsider) March 13, 2019
And we love him, so we are excited to hear from him!
What's Next on Days of Our Lives
To come between John and Marlena, Diana carries out a deadly plan. Watch Days of our Lives, weekdays on NBC. #DAYS pic.twitter.com/mmKFF7dEH7

— Days of our Lives (@nbcdays) March 8, 2019
Brady is in a bad place, and he is taking out his anger on everyone. He's mad at his brother, Eric, for kissing Sarah. He's been working so hard lately to repair his relationship with Eric, too, and we cannot figure out why he's been doing this. Why is he so upset about that? Who cares what Rex thinks at this point? Things are not going well for either of these men, but fighting with one another about this is not going to help them get their brotherly relationship back on track in any way. Stefan, on the other hand, is also making Brady mad. Well, who isn't making Brady mad at this point, to be honest? He's mad at his brother, at Sarah, at Leo, and at everyone in between.
But it's Stefan who is trying to make things work with Chloe, while also serving as a man who has advice to give to Ben. He will tell Ben he should not give up his chance at having real love, while Juile is helping Ciara work through her own feelings about Ben. This is bad for all of them, and it's not going to work out well for them in their situation. They both care for one another, but they are both hurting and unsure how to fix their problems. They are also pretty young, so this might not be something they feel overly confident in the meantime. They have very little to offer one another at this point, so this might be it if they cannot make it work.
Stay tuned for more Days of Our Lives and be sure to check out TVOvermind daily for the latest Days of Our Lives spoilers, news, and updates.
Tell us what's wrong with this post? How could we improve it? :)
Let us improve this post!