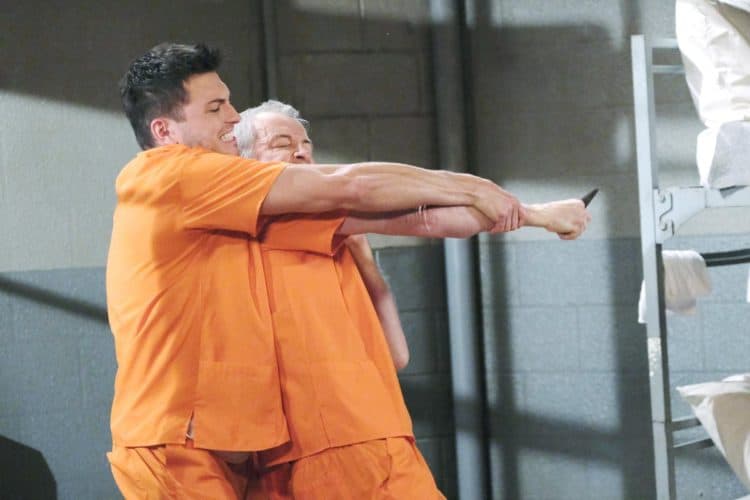 Days of Our Lives fans aren't sure why Gabi hasn't calmed down at all in the past year. She went from being horrible and awful and immature to also including paranoid to her very long list of things she's not good at. She's a mess, and we simply cannot figure out how to stop her from ruining her own life any more than she already has. She is not someone who is making good choices, and we know this. But, we also have to focus on the fact we just saw her send Eli all the way to Rome so that he could stop Chad from whatever she feels that he is doing that will not make her happy. She's using Eli, and she knows that he will eventually realize this. But, she doesn't seem to care at all that this is the truth of her life, either. It's an ugly situation.
Nicole wants Eric to forgive her, but we aren't sure he can. She's hurt him, and he is not sure he can get over what she did to him and the secret that she's been keeping for a year. He's hurt, and he's not happy. Then there is Evan, who kissed Sonny. Is this the end of things with him and Will, assuming that Ben can even stop Clyde from hurting Will and taking him out? And what about Ciara, who has done all she can to make things right? Abigail doesn't know that Hope is not Hope, and she's sharing with her that she feels Eve is not the one who shoved her mother, and she's in jail for the wrong reasons. Then there is JJ, who is desperate. He has to find Kristin. Lani has made a commitment to someone, and she's sharing that information with Abe.
What's Happening on Days of Our Lives
Lotta time in prison to work on your fitness… #Days

— Chandler Massey (@ChandlerMassey) December 3, 2019
We suppose that's true.
What's Next on Day of Our Lives
Stefano's eerie return takes everyone by surprise. Watch #DAYS, weekdays on @NBC. pic.twitter.com/ghIGabF4ip

— Days of our Lives (@nbcdays) November 29, 2019
We are just so curious as to what happened the past year with Hope. She's not here, and she' been overtaken by the person that calls herself Princess Gina, and things are a mess. Yet not one person in her entire life has decided that they suspect this at all? It's not until she is going to offer Abigail some problems looking into what happened to her mother when she was pushed that she is going to show some of her true colors. She's going to resist helping, make a problem out of it, and move on with her lfe like that. And that is what is going to make Rafe wonder if there is a real problem here. He will only just now wonder if there is an issue with her, if she is looking into things for another reason, and why is she behaving in this manner?
And then there is Sarah. She's hurt that Eric is hurt, but she's sharing what he said to her with Xander. He will share the custody of their child with him, but only on one condition. We don't know if she can meet his demands, either. There is so much going on that she cannot change, and she's upset. She never wanted him to find out this way — or at all, to be quite honest. She was happy the way she was, and the way things were. Now Eric is unhappy with her, he's unhappy with Nicole, and not one person actually made it out of this with him on their side. This is what happens when you lie.
Stay tuned for more Days of Our Lives and be sure to check out TVOvermind daily for the latest Days of Our Lives spoilers, news, and updates.