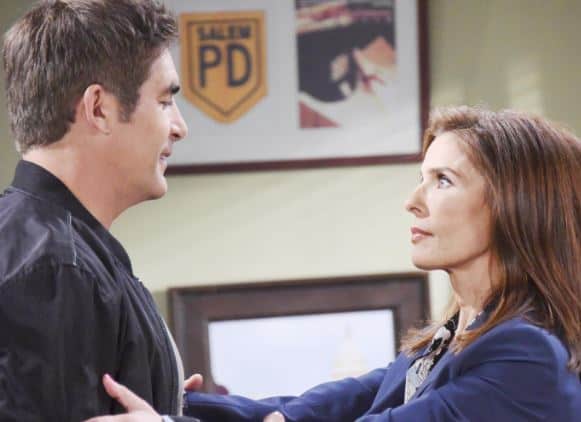 Days of Our Lives fans are more than a little confused about a few things that are going on in the world of people who have to make some big decisions. For one, we all know that Nicole is looking to escape Xander, and she did. But she stumbled upon something last week that might just change her life the game, and everything else in between before she knows it. She knows that Eric is the man she needs and wants to be with, and that he is the love of her life. She's someone who needs to get her life together, but she's constantly looking for a way to make sure she's able to get her situation under control and make it work for her. But that's not going to happen until she is able to finally let go of the fact that she's made mistakes and stop trying to cover them up.
Sami is not happy with a lot of things right now, and Brady is on her radar. She is convinced that he is with Kristen to make things happen for himself rather than for the rest of them. She accused him of being on her side and working to make her life better while destroying their family. He's not, of course, but he does have to play that game and try to get that to be the thing he makes everyone believe. He's not someone who does a great job of covering up his tracks easily, but he's a seasoned liar and a bad planner who can't get it together. He's managed to get everyone upset with him in the past few weeks, and he's not in the market to see about letting any of that go. Will he make things right? Or will he make them worse?
What's Happening on Days of Our Lives
#Days More of #Ericole being all sexy!!🙌👏😍 These two are 🔥🔥🔥 Yaaaaasssssssss pic.twitter.com/dq9nZSQGGX

— AEMullins 💜🌺🐶💗🐻✝️🐾 (@aemullins) October 15, 2018
Everyone loves this couple and wants to see them together, but we have some bad feelings about these things. Will they make it work, or will they find out that they just can't make it work for themselves? We don't know how this might go.
What's Next on Days of Our Lives
Can Eric rescue Nicole from certain death? Watch Days of our Lives, weekdays on NBC. pic.twitter.com/C3NQ7FnNPe

— Days of our Lives (@nbcdays) October 19, 2018
It turns out that a lot is going to go down this week. Today we will see that Sami is going to learn about the mystery patient. We know this has been a big deal and a big thing and a major situation, and we know that she's going to stumble across the person and realize something that she might not already know. Can she find EJ alive and well, or will she find out that her dreams are not all that meant to be? She's got some clues and some suspicions that might just work in her favor, but we hope she's not torn apart when she realizes that things will not go her way. There is too much to figure out around here, and she's not going to get much reprieve.
We will also see that Bonnie is going to be a hot topic. This little baby needs a father, and there is a lot of drama about that right now. It turns out, however, that Mimi might have some information about the little one's father, and she's sharing what she knows. Is the baby's father really Lucas or not? We can't decide if we think this will go that way or if it will turn into something completely different. She might be able to shed some light on the many questions we have, but at the same time we aren't all that certain that she can handle what's coming her way in terms of all of this. Will it happen, or will we remain curious?
Stay tuned for more Days of Our Lives and be sure to check out TVOvermind daily for the latest Days of Our Lives spoilers, news, and updates.