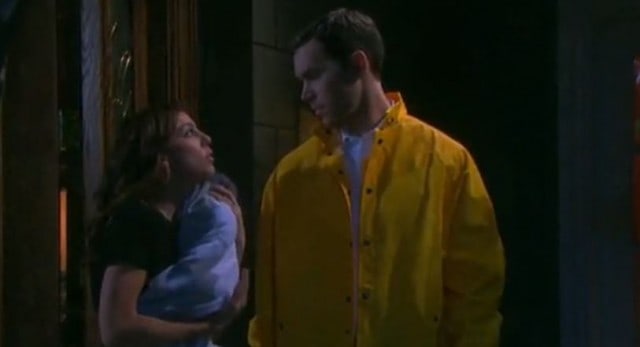 On Tuesday's Days of Our Lives, things are not looking good for Abigail and Chad. They seem to have begun their lives together as husband and wife in the worst possible way, with the escape of Ben from the mental facility in which he was housed. Though we know that Chad really is the father of Abigail's baby, Ben still believes that he is. She is scared for her life that Ben will try to not only kill Abigail, but take Thomas with him as well. She is fearful for her own life and the life of her son with Chad, and he cannot seem to do anything to keep them any safer than they are.
Abigail worries she is the reason that her marriage is already suffering, and she cannot get over her fears that Ben will do something terrible to them. She has to figure out how to get through this, however, or things will only continue to get worse for the couple. She is fearful that she is seeing things, and that Ben is not really there. She cannot decide if he is and he is taunting her and making her crazy, or if she is just actually going crazy all on her own. Her fear, and the fear that her new husband will think she is crazy is actually only making her crazier. Nothing is good for her right now, and it appears that she has to go out of her way to show she is not losing her mind though she believes she really is. Is she crazy, or is she not?
In other news, Tuesday will bring with it the loss of Theresa's engagement ring, and even more problems. We already know she is having some trouble with the fact that her fiancé has developed such a close friendship with another woman who happens to be the woman who was in love with the man whose heart he now has in his body. It's a crazy situation, and Theresa is feeling the stress of it in her own life. Her engagement ring is just one more thing she has to worry about, and it's just one more thing that is driving her to wonder if she's going mad.