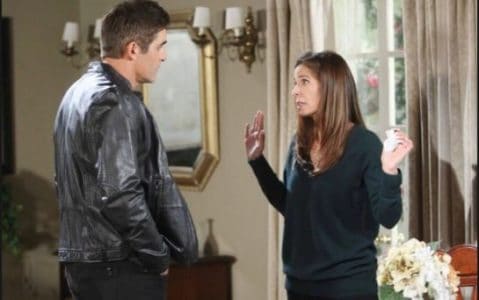 Days of Our Lives fans are well aware there is a lot more going on than meets the eye at the moment. We know that Hope has a wish to end her marriage to Rafe after he lied to her about going to bed with Sami after she ended their engagement and told him that things would never work out with them. He was wrong to keep it from her, and it was a poor decision. However, he didn't cheat. What he did do was lie to her by omitting that small part of the story. And she's not happy.
She's been on a mission to end their marriage since she found out about it, but things with Chad and Abigail and Stefan and Andre have gotten in the way of that in the past few weeks. She's been a bit too distracted to spend too much time focusing on her own personal life lately, and she's been focused instead on her own life situations in other manners.
But today is the day that he will finally give her want she wants, which is to end their marriage and move on from one another. It's sad news. We thought that they might make things work, but word on the street is that she doesn't want to. She's not in the frame of mind to forgive this kind of lie, so she's not going to deal with it at all. And now we see things change for all of them at once.
If you thought there might be a reunion for these two, you were in the same boat as we were. We thought there was a great chance they might just have a chance to get this together and make a bad situation better, but it turns out we are all wrong and this might not happen. They can't seem to get their lives together, and we cannot seem to make this better for anyone else. This is one thing that we didn't see coming, but we still remain hopeful that they can work this out and make it all stop.
Tell us what's wrong with this post? How could we improve it? :)
Let us improve this post!