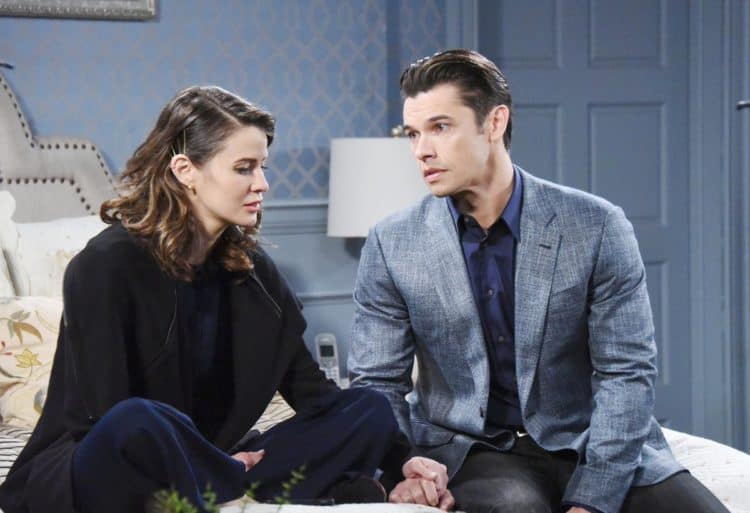 Days of Our Lives fans cannot believe that so many horrible things have happened at the start of the week already. It's been a long couple of weeks, but it was hard to watch the news being broken on Monday. There was so much we thought might get better, and we had no idea so many things would fall apart for so many. For example, we didn't know that there would be such an issue for people like Doug and Hope as they were forced to share bad new with Julie. They've been doing all they could to try and make sure this didn't happen, and yet here they are. They had to tell here that there is nothing they can do for her but sit back and let her die without a new heart, or they all have to be okay with her getting the heart that is currently keeping Kate alive.
Julie is not going to handle this news well, and we can see that things will not happen right away. She probably will not be all right with it at any point in her life, and we are certainly not going to see her jump at the chance. She's upset, she's not living her best life at this point in her life, and she's not in a good place with anyone or anything else, either. She's struggling, and we get that. She's got so much going on, and it totally makes sense to us that she could not find something better to do with her life than sit here and ponder her future. She is dying, and she has to make some choices she may not want to make at all. This is not a good thing, and we cannot expect more of her.
What's Happening Days of Our Lives
In the latest DAYS, Lucas returns to Salem and gets upsetting news about Kate's condition.https://t.co/Gv7Weumrvw pic.twitter.com/mZikMZVXjl

— Days of our Lives (@nbcdays) September 23, 2019
While we hate the condition, we love that he's back.
What's Next on Days of Our Lives
After all the twists and turns, Jack finally gets his memory back – and remembers who Jennifer truly is to him. Watch #DAYS, weekdays on NBC. pic.twitter.com/eyZqeIpCyX

— Days of our Lives (@nbcdays) September 20, 2019
There's a lot going on right now. Kristin is not yet done rocking the worlds of so many people in Salem, and she's back to Brady. We already know he is struggling with his fair share of upsetting things in his life, and he is not going to end up with anything positive to say about anything that is happening in his world, but he is also not going to be very happy when Kristin shows up to share some news with him. She's pregnant, and it is with his baby. This is not news he wanted to hear. He's not sure he is ready for this at all, and he knows he is not ready for this with her. There is not a chance this will go well and that things will turn out all right with them, but there is nothing else that will change the world in their lives. We love it. We are down with it. We cannot wait to see this.
But, then there is Sarah, who is pregnant with Eric's child. It seems Nicole has learned of this, and she's been harassing this woman for a while now trying to find out more. There is no way Sarah can lie to Nicole about it, and there is no way she can get rid of this pregnancy if Eric knows she is pregnant. He would never stand for that, and she cannot do that to him. This might not end well for anyone, but we can see it ending with the birth of a new baby that belongs to them.
Stay tuned for more Days of Our Lives and be sure to check out TVOvermind daily for the latest Days of Our Lives spoilers, news, and updates.
Tell us what's wrong with this post? How could we improve it? :)
Let us improve this post!