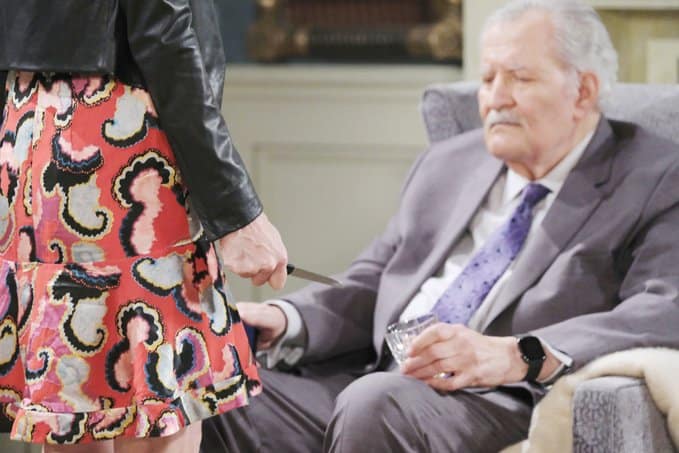 Days of Our Lives fans are worried about Ben. He cannot seem to find himself in a situation where he can just be or just enjoy himself or just have a good time. He is out of prison. He is with the woman that he loves. He is living his life. He is worried about the nephew he didn't even know he had until a year ago, and he's worried that the awful man who claims to be his father is going to get him and make his life miserable. But, now he is not sure that Jake isn't someone he knows. He reminds him very much of a friend he had a long time ago, and we just have to say that we know that nothing in Salem is a coincidence. Nothing; and we all know that this means that something is going to happen and we will see some serious drama for Ben and for Ciara.
Meanwhile, we do know that there is a lot that is going on with others. Abigail is getting some answers about her hallucinations, and we are just sitting here wondering if this young woman will ever, ever find a way to live her life without so much pain and so much horror in it. She seems to have so much to live for, but she cannot seem to find a way to live for it. She's seeing things, and it makes us wonder if Gabi is also seeing things. She thinks she saw her dead husband, and we wonder if she, too, is hallucinating and we won't have any answers or anything to go on from that point on. It seems like a situation that isn't going to work out at all. But, we can sit here and watch as it all unfolds, right?
What's Happening on Days of Our Lives
https://twitter.com/kristianalfonso/status/1241872492496662529?ref_src=twsrc%5Etfw
We love Sunday drives.
What's Next on Days of Our Lives
Gabi sees someone who looks exactly like Stefan… and collapses in the square. Watch #DAYS, weekdays on @NBC. pic.twitter.com/9sq6TaH1mw

— Days of our Lives (@nbcdays) April 24, 2020
Will Abigail and Chad be able to find answers for all that is going on? They now know what might be causing her to see things that are not there, though we have been thinking it has a lot to do with the very simple fact that she is always dealing with some headspace issues. She's had more than her own fair share of issues with her brain and the way that it works. Remember when she was a woman who did things as another woman? Remember when she lived her life as Gabby, and she was a horrible person because she couldn't control her multiple personalities? Is this a part of that? Is there an explanation for her and her ways when you take this into consideration?
On the other side of things, maybe there is more than this going on. We know that Zoey is getting in Rafe's way and he is not happy about this, but we are going to see Evan spend some time this week opening up to her. We know that he is here for more than just the boy, and we know that he has something going on that he has yet to share with anyone, and we are not going to be surprised if he opens up with something that will blow our minds. We know that he has been lying this entire time, and that is nothing that will work out well for anyone. But, we also know that he has some things to gain, so he might be working this out in his own favor.
Stay tuned for more Days of Our Lives and be sure to check out TVOvermind daily for the latest Days of Our Lives spoilers, news, and updates.