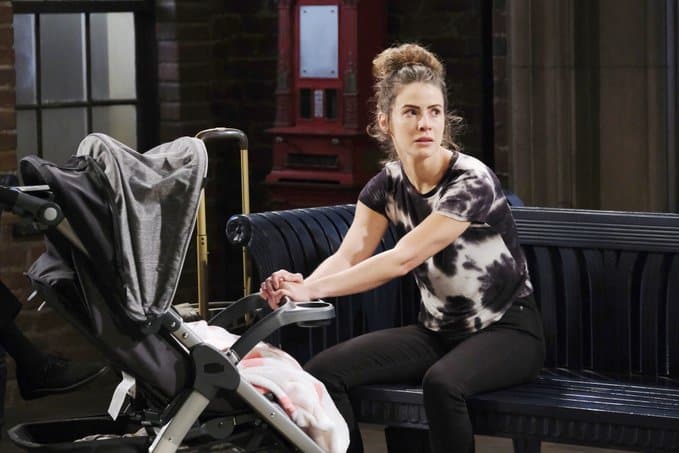 Days of Our Lives fans are loving all that happened in the past week. That means this week should prove to be an exciting one, but we first need to recap what happened in the week before this one. It was a big one for people like Evan, who is waiting to hear what the judge has to say in his case. He's got Zoey doing all she can to make sure that she is intimidating anyone who might even think about testifying against him in any capacity. It was a sad week for Abigail, who hallucinated to the point that she attacked Kate, and that is never a good thing. There are so many things going on that have to be dealt with around here, and many of those things are tragic and unhappy. But, she's going to have to learn how to deal with those things before it's too late.
It was a great week for people like Ciara and Ben, who happened to do this little thing called get engaged. She had to tell her mother, which was not an easy situation for her given the way that Hope feels about the entire thing, but it worked. She told her. Her mother knows there is little she can do anymore about any of this, and that is just how things are going right now. She's been in a situation that is not going to change for some time, and she's currently dealing with the things that are on her own mind, such as the fact that she is feeling that the entire Princess Gina thing is her fault. But, Ciara and Ben are so happy. Kristin found her baby. She talked to Sarah. Sarah had a conversation with Maggie that was very emotional, and everyone is just a mess right now.
What's Happening on Days of Our Lives
Oh, Mother! An engagement, a hallucination &Â a shocking secret rock #TheRealMomsofSalem Check out the extended promo for next week's #Days on the #DOOLapp @KristianAlfonso @StaceHaiduk @LinseyGodfrey @SuzanneC_Rogers #MelissaReeveshttps://t.co/Z6nl79kK3J

— Days of our Lives (@daysofourlives) May 9, 2020
Good stuff right here.
What's Next on Days of Our Lives
Ben and Ciara get engaged, Kristen confronts Sarah – and the truth about what really happened last Mother's Day is revealed. Watch #DAYS, weekdays on @NBC. pic.twitter.com/pSq5TZF6FQ

— Days of our Lives (@nbcdays) May 8, 2020
Xander is a man with some big problems. For one, Sarah has left him. She didn't marry him. He took her baby from her. Well, actually he did not. Sarah's baby died in the car accident that was caused by Maggie — well, shortly after the accident — but he was so sad by this and knew how much it would hurt her that he came up with a plan — alongside Victor — to steal the baby that Kristin and Brady had the same day and give it to Sarah and tell everyone that it was Kristin and Brady's baby who died. Now she knows the truth, she's crushed, and he had to tell Maggie she was also responsible for this. Now things are going badly for her, and she cannot handle it. We don't know what is going on, but she's in danger.
We know that this week is going to begin with him rushing to her side to save her, but from what? From herself? From someone who is in the prison with her? From something else that is going on entirely? We don't know what is going on with this, but we do know she's got some issues to face, some much bigger problems at hand, and she is not sure how to handle this. He has to save her. He loves her, but he's not sure how to fix this problem that he actually created on his own. Things are just not going well for him, but we'd have to say they are going much worse for Maggie right now.
Stay tuned for more Days of Our Lives and be sure to check out TVOvermind daily for the latest Days of Our Lives spoilers, news, and updates.
Tell us what's wrong with this post? How could we improve it? :)
Let us improve this post!