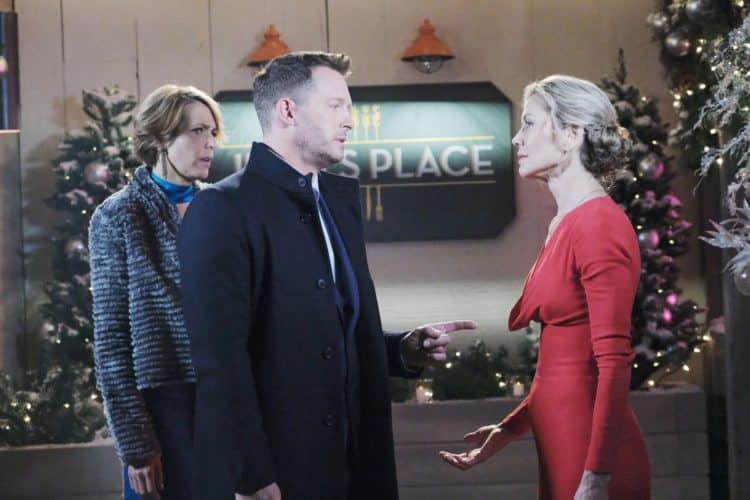 Days of Our Lives fans will never be surprised when Kristin uses people and does things that make people miserable. She's just that kind of gal. She likes things the way she likes them, and she's never a mad person when she gets what she wants. Right now, she wants Brady, and she is going to do all she can to get him to fall for her again. This time around, however, she's decided to hone in on Gabi and see what she can get from this young woman to make her own dreams come true, and we cannot decide if Gabi is using her in return or if she has no genuine idea that Kristin is using her to get what she wants. Either way, it's not that big of a deal for us as we think they are both a crazy mess and they both need some serious help in their lives.
Eli is not sure why Lani would throw a rock through Gabi's business window, and we don't think she's being honest with him when he questions her. We might not know what game she is up to, but we can tell you that she is certainly up to something in general. Then there is the fact that Xander now thinks that Ciara is the one to blame for all that just happened to Victor. She is not sure that things are going to go well for herself now that he's in trouble and his health is not well. Brady is not happy, either, when he learns what happened to Victor, and he is going to have more than a few questions about what's going on and what that means for everyone involved. He's not someone who typically cares this much about things, but this is Victor we are talking about.
What's Happening on Days of Our Lives
In the latest #DAYS, Hattie persuades Roman to hire her to waitress at the Pub. pic.twitter.com/5X2R5N52YM

— Days of our Lives (@nbcdays) December 28, 2019
Always a bad idea.
What's Next on Days of Our Lives
Lives hang in the balance as Victor collapses and Ben waits to hear if he'll be given the death penalty. Watch #DAYS, weekdays on @NBC. pic.twitter.com/JSPgjfrgSg

— Days of our Lives (@nbcdays) January 4, 2020
Lani has some opening up to do, and she's decided to open up to JJ. They are old friends, and they are old partners. They were once going to have a baby together until she got the confirmation that her baby did not come from the time she was with JJ but the time she cheated on him with Eli. It was a horrible situation for them, but she never stopped caring for him so much as a close personal friend of her own. He's going through horrible times of his own right now as he battles some serious addiction issues, but she is going to deal with her life the best way she knows how to deal with it — she's going to talk to him and confide in him and make things right with him.
Nicole is just as much into playing games as Kristin, and she is not above lying about everything to rile her up. She's going to tell some lies to Kristin about the relationship she has with Brady, which we all know is not a real one. She merely kissed him on a whim, and that's all there was to it. But, she's already been left by Eric, and she's going to do whatever she can not to lose the other one, too. This is who she rolls and what she does as a person, and it's not a cute look for her. We know this, but she doesn't seem to know it in any capacity. We cannot even handle it.
Stay tuned for more Days of Our Lives and be sure to check out TVOvermind daily for the latest Days of Our Lives spoilers, news, and updates.