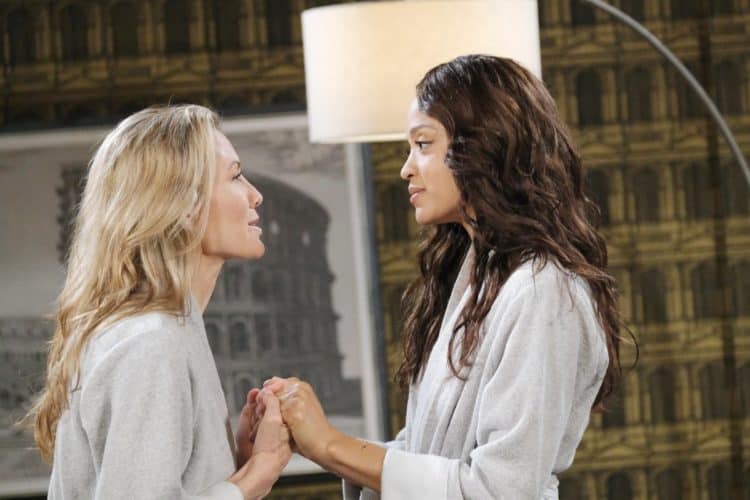 Days of Our Lives fans saw a lot go down last week. It was a big week leading up to this week, which is the Christmas holiday week, and we are here for it. We saw that Roman realized that Kate is hiding someone in her room. We saw that Kayla and Kate had a moment in which they tried to make things work and failed to do so. We saw so many things happen and so many people feel things that they should not feel, and we saw the world erupt in some serious chaos and some big time situations. We saw Chad and Abigail dealing with their lives. We saw Ben try to deal with his life, too, and it looks like we can see that Abigail is not happy with Eli. She's his friend, and she is not all there for what is going on with him and with Gabi. There is a lot happening here we cannot control, and we get that.
But we also get that there is a lot that might happen in ways we cannot predict. For one, we cannot predict what will happen with Stefano, and we will not forget that Lani is taking back her life, which makes things interesting for Eli when she gets back to town. We cannot wait to see things unfold for everyone when Gabi realizes what is going on, and we are going to live for that moment. We are not sure how this will all work out, of course, but we do know that we can see things working out in some way. Not for Princess Gina, though. She's not going to get her way in any capacity. Her life is not what it seems, nor will it ever be what it seems for her.
What's Happening on Days of Our Lives
Ever wondered how some of your favorite #DAYS actors celebrate the holidays? pic.twitter.com/igFNjT7n5k

— Days of our Lives (@nbcdays) December 19, 2019
We love hearing other people's traditions.
What's Next on Days of Our Lives
Ciara lies to Victor about Ben; Kristen lies about her friendship with Lani; Kayla lies to herself. Watch #DAYS, weekdays on @NBC! pic.twitter.com/cw7e8fC2Vz

— Days of our Lives (@nbcdays) December 14, 2019
Kayla and Justin are positive that they were made for one another, and they are spending their first Christmas together doing all the romantic things that are meant to keep them in a good place. They are doing all the things that are happy and good in their lives. They are planning the most romantic holiday together, and they don't think that there is anything that will make them feel like this is not the best holiday ever, but we think that they will find that some things are not going to work out. She might not have a much better situation on hand, and that might change as some people decide to change their world and their game.
On the other side of things, we hear that there will be a lot of stuff going on this week with people like Eve and Hattie, and that they will get a gift of their own. It might not be the best gift if we had to guess, but we think that they will appreciate whatever it is because it does not affect them in any capacity. On the other side of that situation is Stefano, who might not be who he says he is. We think that there is a lot more to this story than anyone else suspects, and we think that this is going to be some sort of game changer for everyone. We don't know for certain, but we feel like the game is changing and everyone is going to be better for it.
Stay tuned for more Days of Our Lives and be sure to check out TVOvermind daily for the latest Days of Our Lives spoilers, news, and updates.