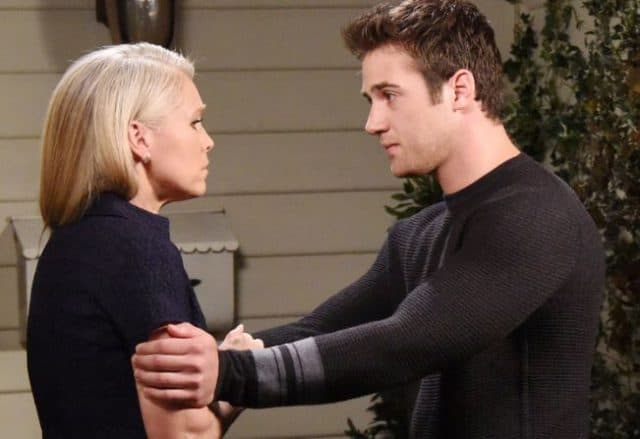 Days of Our Lives is pre-empted today for the Presidential Inauguration, but that doesn't mean we can't leave you with a quick sneak peek into what might happen on Monday's brand-new episode and into the new week. As we all take a moment to usher in a new President and change into the country, we also focus on what will happen in the coming week. We have reason to believe there will be a few serious moments on next week's shows. Nicole will be arrested for attempted murder. She's not out to murder anyone, so we can only assume Deimos had something to do with this. We don't assume he set her up, but we do assume that someone who wants to exact revenge on him did just that.
Brady now knows that Chloe has Nicole's baby, and he urges her to come clean. What better place to do that than while visiting her friend in jail? She's going to tell Nicole that she secretly tried to get pregnant with Nicole and Daniel's baby just one more time even though the doctor told her the chances of getting pregnant were pretty slim. In fact, he even told her that she wasn't pregnant when she was. Nicole is crushed, heartbroken, jubilant, and beyond words. She's so very upset with her friend for keeping such a desperately amazing secret from her, and she feels so betrayed. What will she do now?
Sadly, no matter how hard Nicole demands she get her daughter to raise, she is in jail and she hasn't much room to stand and make her case. She's not going to find it easy to get the little girl from her friend, who claims Nicole can't parent a child with Deimos. She won't give up Holly, so there is going to be a long legal battle, personal problems, and more we are positive we can't even predict if we try.