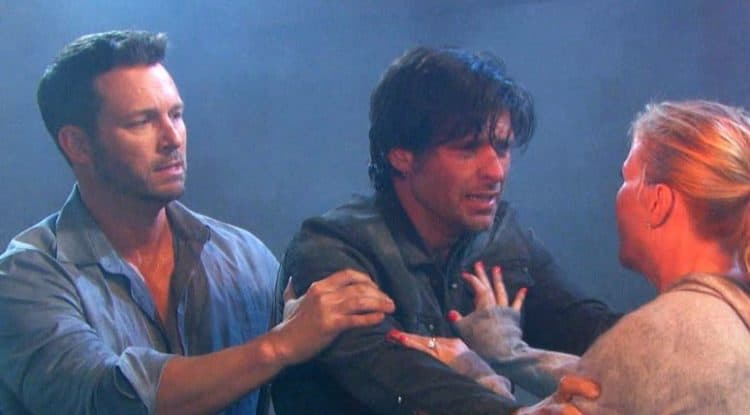 Days of Our Lives fans are just all kinds of excited about what is happening right now, and we want to start with all that recently happened. We know that Abigail is not crazy, and she's not the mess that everyone thinks she is. She is going through a difficult time with her life right now, and it's all because of Gabi and what she's managed to make happen in Abby's life. It's been a disaster of so many different proportions, and we cannot handle it. But we did see that Abby took it upon herself to take her feelings over to Kate and lay into her. She cannot believe that Kate would do this to Chad even if she does believe she would do it to her. And we think that this might end up making her rethink her plan to work with Gabi. After all, Kate might be a pain, but she's not a problem when it comes to how she's treating Chad. She loves him.
But then there is the simple fact that we can also see that things are not working out for Lani. She's had a rough year after she and Eli lost their baby. Now she's mad because Sheila is living with him. She's actually a touch jealous that he gets to live with her when she's not able to do the same. She is upset by all of this, and that's all there is to it. We can only help with what we know at this point, and we can't help but wonder if they have a chance for a future. Eric is crushed and doesn't want to live at this point. He's lost Nicole and the love of his life. He's not interested in anything other than figuring out what to do next with his own life without her.
What's Happening on Days of Our Lives
@nbcdays omg why Nicole?? I cried so hard watching this episode, her goodbye to Eric #sadtweet #DAYS 😢😢😢😢😢😢😢

— 🖤KayDee Inc.🖤 (@kaydeeinc) October 22, 2018
We all did. And we want to know what you all think will happen to Eric now that he's lost the love of his life. What will he do with himself? Will he move on? Will he and Jennifer find a way back to one another again, or will he end up trying to kill Brady or something to that effect?
What's Next on Days of Our Lives
Can Eric rescue Nicole from certain death? Watch Days of our Lives, weekdays on NBC. pic.twitter.com/C3NQ7FnNPe

— Days of our Lives (@nbcdays) October 19, 2018
We are going to see a seriously big situation happen today. We are going to see John take it into his own hands to get rid of Hattie. She's always there when she wants to be, and she's looking to make trouble for everyone she feels that she doesn't want to have in her life. She's causing him problems now that he has his wife back, and she's got to go. The problem, however, is that John is very much focused on what he can do to make sure that things work for Marlena, so he's going to ask Roman for a little help in getting rid of her. And he will be the one to make that happen without much of an issue. It might be good news, but it might be bad news.
We also know that there is something else going on, too. Kristen isn't sure what to think at this point now that Brady has worked to rescue his brother and make things right the best way he knew how. She was convinced that he was on her side, but we all knew that was not the truth in any way, shape, or form. But he has to play her to get what he needs to get from her, so she will continue to think that because he will continue to argue with her to make sure she still believes that. It's al a mess in so many ways, and we aren't sure what will happen at this point.
Stay tuned for more Days of Our Lives and be sure to check out TVOvermind daily for the latest Days of Our Lives spoilers, news, and updates.
Tell us what's wrong with this post? How could we improve it? :)
Let us improve this post!