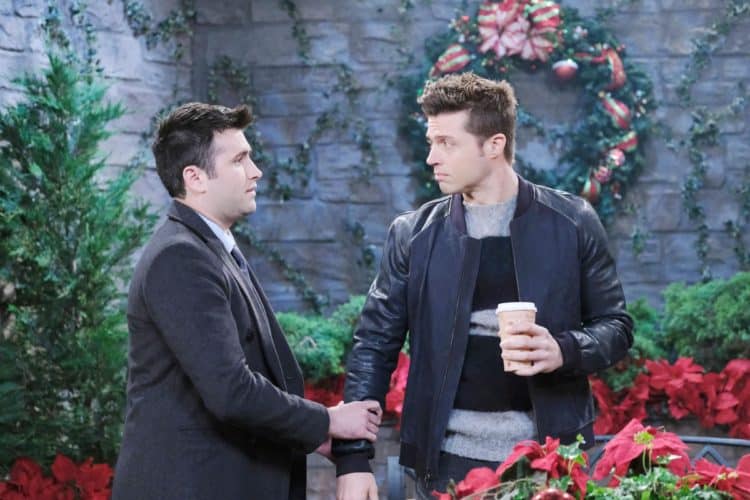 Days of Our Lives fans are not sure how things will progress as the last week before Christmas goes on, but we can assume that there are going to be more dramatic moments than ever before. It's a holiday week — almost — and that usually means that things will happen at a more intense rate than ever before. We already saw that there was so much happening for Will and Sonny. He's not in a place right now where he can make Sonny happy, but he's doing all he can to see if he can salvage what is left of their relationship. He's in a place where it doesn't look as if he is getting out anytime in the near future, and he is life is in danger. Yet, here he is making all kinds of sacrifices for Sonny so that he can be happy.
Meanwhile, Sonny is definitely out and about making some poor choices that are not good. He's making out with Evan, which is not a good thing. Fortunately, Kate has already made sure he knows that his choices are all kinds of wrong, and she's made it very clear she is not happy about it in the least. There's a lot happening right now, and it's all going to fall apart for this couple. We don't know that they can make it, and we are wishing that someone would finally let Will know that he's not doing this for someone who cares for him. He's doing this for someone who is not making good choices, and he's not making anyone happy with the things he's doing right now. We want so much more for him than we are getting right now, and it's making our hearts sad for him in the moment. Poor Will, and how dare Sonny.
What's Happening on Days of Our Lives
In the latest #DAYS, Gabi and Chad go head-to-head for control over DiMera.https://t.co/ZsCmioRrzb pic.twitter.com/x7Oj9wJ2jc

— Days of our Lives (@nbcdays) December 9, 2019
This is going to be a showdown that won't make us feel like we are missing out on anything in the world.
What's Next on Days of Our Lives
Ciara lies to Victor about Ben; Kristen lies about her friendship with Lani; Kayla lies to herself. Watch #DAYS, weekdays on @NBC! pic.twitter.com/cw7e8fC2Vz

— Days of our Lives (@nbcdays) December 14, 2019
Things are not getting any better for John and Marlena. We know that Hope is continuing to get in their way, though we know her as Princess Gina and not as Hope. She's a hot mess, and we are very much aware of this in every single meaning of the word. We know that she's going to continue to make some problems for them so long as she is in town. She's decided that John is the man for her, and she's not all that put off by the simple fact that he is a married man. She's not someone who seems to be very upset by that at all, but we get it. We know that she's not the type to be upset, but she is the type who will go out of her own way to make things as difficult and as uncomfortable as possible if it suits her.
This is why we are about to see Marlena do something we've never seen her do before. She's about to issue an ultimatum for these people. She's done with Hope and her behavior, and she is letting John know about it. She's letting him know that he has a choice to make. Either he ends his friendship with Hope and doesn't see her again, or she's out. She's not sitting her and allowing this to continue right in front of her face, and we get it. We love her for her strength and for her integrity, and this is one of those situations that makes her who she is.
Stay tuned for more Days of Our Lives and be sure to check out TVOvermind daily for the latest Days of Our Lives spoilers, news, and updates.
Tell us what's wrong with this post? How could we improve it? :)
Let us improve this post!