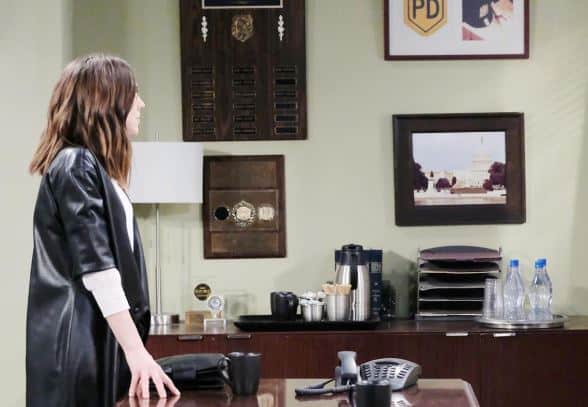 Days of Our Lives fans were basically shocked by how much the show was able to put into a few short days last week. The new year is here, and the show was not on for two whole days last week, but they still managed to make sure that this all turned into information that was beyond shocking and confusing and upsetting to all of us. For one, we watched as Jack returned and everyone in his family was completely shocked. He was not someone we ever thought we'd see again since he was, you know, dead. But he is back. Just like Will, he was never dead. He is back, and he has no idea who he is or who anyone else is. He is not aware of his wife or his kids or their kids or anything else. He's been removed from their lives once, and now he's back and immediately removed from their lives again.
Abby and her husband celebrated the fact that Stefan is not her baby's father. They are a family again. And that is all they wanted. Hope was able to tell her daughter that Ben is one of the people who helped to kidnap Abigail when Chad wanted her all to himself. And there was so much more than went down. Everyone is a mess, and things are turning out for the absolute most shocking situations around. And we cannot help but cry for Jennifer as she is forced to sit back and realize that her life is not what it's meant to be, and that she's not getting what she wants from life in any way. She's not sure what to do, but she's also not sure how to make things work. She's beside herself, but she will find a way to make her life positive again.
What's Happening on Days of Our Lives
.@matthew_ashford discusses his return to #DAYS! Plus, @MrRobertScott and @victoriakonefal talk about all things #Cin. 😍 Listen to the full podcast now on https://t.co/5puWd28reS & the NBC app: https://t.co/G1aBQxE7TS pic.twitter.com/E4Ih7B9X2j

— Days of our Lives (@DaysPeacock) January 5, 2019
There's a bit of a chance we are beyond excited about this and all that it means for us — and we think you should be, too! We are so excited to see the hottest new couple in Salem talk about things, and about how they feel things will go for them as a couple as the year goes on.
What's Next on Days of Our Lives
Xander and Leo team up to take over, and Haley has a secret. Watch #DAYS, weekdays on NBC. pic.twitter.com/LGks6xugLY

— Days of our Lives (@nbcdays) January 4, 2019
Jack is back, but he has no idea who he is or what he's been up to all these years. His family is a mystery to him, and they are all heartbroken that he doesn't seem to remember anything about their lives or their faces. And then there is this week. He's going to run into Kayla, and we don't think that their chance encounter will go well. He's got a dark history in many places, and this is one of those places. He will be made very much aware of something that he did or that happened to him in regards to either Kayla or something she knows about him, and it will not go well. She might be surprised to see him, and that might make her say something to him about their own history. And that might be shocking.
Imagine showing up at home to find out you have a family and kids and a wife and people who you don't know you've ever met in your life, and then to find out that you have a dark past, too. It's not that good for him, and he might not be able to handle how this is going on in his life at the moment. What he's learning about himself might not all be good, and that might make him want to turn around and run back to the place where he was happy in his bliss and ignorance. But will he get that chance, or will he get his memories back?
Stay tuned for more Days of Our Lives and be sure to check out TVOvermind daily for the latest Days of Our Lives spoilers, news, and updates.