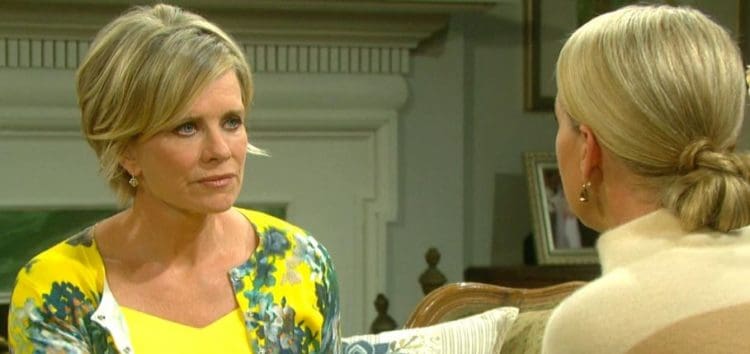 Days of Our Lives fans know that Jennifer is crushed. She's got her husband back, but she doesn't have him back. In fact, Eve has him back. She's managed to make him hers, and he has no idea who his own family is. It's really not something that they are doing well with, and Eve is only working to make it more difficult for them. They have so much to be thankful for having him back and alive, but it's nothing that they can live with at all. They're struggling in a major way, and this is not going to be easy on them. Adrienne is the woman who is making things easier on Jennifer by being there for her in the moment, but it's not working too well other than for Jennifer to have someone to turn to and lean on. She's being the same kind of good friend that she knows she can be, but it's not something she's going to live with otherwise.
And then there is something else going on with Ben. He's been beside himself since everything went down with Ciara, and things are not good for him. She will not return his calls or talk to him, and Hope is the problem. He's not sure what to do, and that's a problem. Things aren't going to improve for him, and we are all looking at him with broken hearts and upset feelings. She's someone he cares for deeply, and things are not going to end well for them. We can only remember how obsessed he was with Abigail when he was in love with her, and this is something that might make us think there could be some kind of repeat situation. Will they turn things around, or will he end up doing the same thing?
What's Happening on Days of Our Lives
Previously on #DAYS, Chad makes a big sacrifice for Abigail.https://t.co/ZsCmioRrzb pic.twitter.com/R5tREm7wAW

— Days of our Lives (@nbcdays) January 26, 2019
He will do anything for her, and we love that. He's feeling bad about not believing in her last year, and he will do any and everything to make that all right.
What's Next on Days of Our Lives
Ciara is taken captive! Watch Days of our Lives, weekdays on NBC. #DAYS pic.twitter.com/ZyuAnYhMH6

— Days of our Lives (@nbcdays) January 25, 2019
Ben is spiraling, and we all know that is not something that he can handle. He has a long, very ugly, very bad, history of things spiraling out of control in his life. He's not someone who can handle what is going to happen if he spins further out of control, but he cannot help how he is feeling. As if losing Ciara wasn't enough for him when she ended things, now he cannot find her. He cannot get in touch with her even to make sure she is okay, and he's sure that there is something wrong. We know — because of spoiler videos that have been released — that she is being held captive and she is tied to a bed somewhere, but we do not yet know how or why this is happening to her. But Ben is going to lose it, and he might not be able to get it back if he cannot find her.
But, on the bright side, he might be the only one who can find her. He cares for her so much that he might do anything it takes to free her and get her back when he realizes that it's more than her just ignoring him. And he will be able to get her — and they will end up back together. This is something we are more than a little bit sure of, and we don't have any question in our minds that it will happen for him in a beautiful way. Of course, Hope will not care for this at all.
Stay tuned for more Days of Our Lives and be sure to check out TVOvermind daily for the latest Days of Our Lives spoilers, news, and updates.