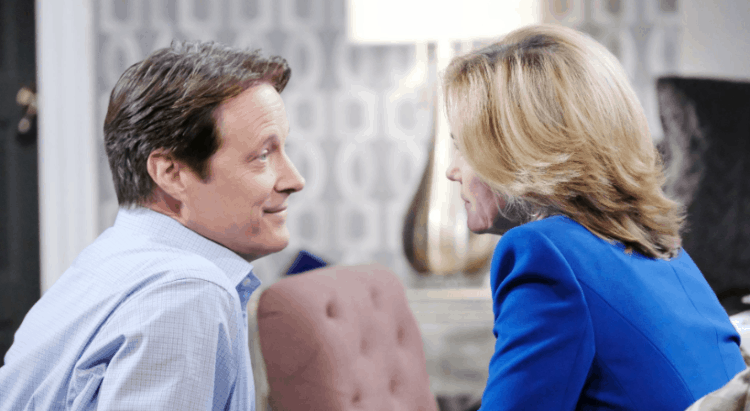 Days of Our Lives fans are sitting here wondering what will happen as the holiday approaches, but we never really know for certain. There is some speculation that we might see some fireworks, but will they be the kind that make us wonder what is really going on, or will they be the kind that make us certain we cannot get it together? There was a lot going on already this week, what will Rex and Sarah deciding there is a beautiful family tradition that they want to revive. They want to try and make their lives as special as possible, but what does that mean for everyone else? We are not entirely certain. Belle and Shawn did all they could to see if they could make their daughter feel better about everything, and that is one thing that is not going to happen. She's a mess, and they cannot handle it at all.
Eric made a discovery that is going to change the way the world is working, and he's not happy about it. There is nothing he can do to that will stop things from coming unglued. He might not have much of a say in the way things are going, but he might find some trouble seeks him out in the middle of this situation. He is not going to find things working in his favor, and that will be especially true if anyone finds out what he did and how he did it. For now, though, we are focused on what might happen to Claire. She's got to get some help, but we are just not convinced that the kind of help she needs is available to her in a way that we would like to see it. For now, though, we can hope that it works in her favor. She's a mess.
What's Happening on Days of Our Lives
https://twitter.com/nbcdays/status/1146493879899820039?ref_src=twsrc%5Etfw
We love it, too.
What's Next on Days of Our Lives
This year, the big fireworks are in daytime. Watch #DAYS, weekdays on @NBC. pic.twitter.com/nMcPY6UIyk

— Days of our Lives (@nbcdays) June 28, 2019
Today is a special day Salem as well as across the nation. It's the birthday of America, and it's a big day for many of us. The people in Salem are celebrating the birth of a nation as well, and they are doing it big. Sarah and Rex are going to be the hosts of the big party, and they are sparing no expense when it comes to their families and getting everyone together. They are excited, they are celebrating, and they are living it up. They have so much to feel good about, and they are also very appreciative of the way things are going in their lives. They are happy, they are healthy, and they are loving what is going on. Today, it seems that many people will put aside their differences, they will focus on what is good in life, and they will really put an end to what is ugly.
Then there is Claire, who is just upset. It seems that many other people are also upset, and they are upset primarily with Eve. You see, she was aware of what was going on around here, and she made the decision to do nothing about it. She chose to forgo everything that she did. She chose to get her life in order. She chose to focus on things that made herself happy, and she let go of the fact that a young woman was struggling, and she used that to her own advantage. And no one is happy with her about that. But, we will see Eli show some romance to Lani, which is nice.
Stay tuned for more Days of Our Lives and be sure to check out TVOvermind daily for the latest Days of Our Lives spoilers, news, and updates.
Tell us what's wrong with this post? How could we improve it? :)
Let us improve this post!