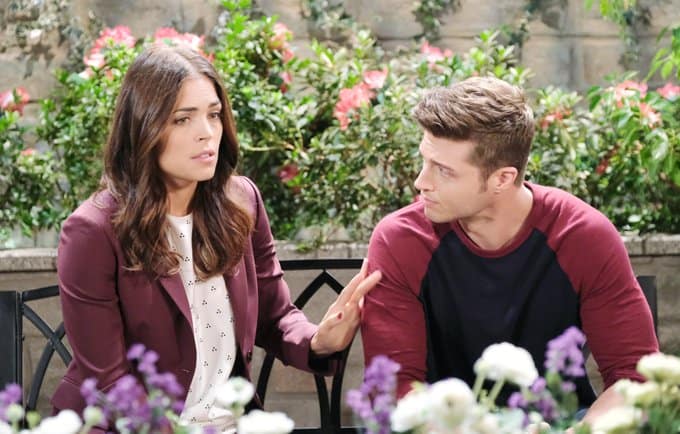 Days of Our Lives fans would love to see Gabi get a break, but she won't. She is living her life in a way that is not good for her, that will not work for her, and that will do little more than cause her so much more drama than it is worth. She's now seen her dead husband for the second time, and she's fainted as a result. She's not having a good time because of this, and it's eating at her mind all day long. She cannot focus on anything else in her life wondering if there is some sort of miracle happening in the world that has brought him back to her from the dead — and without his heart if we can just remind fans that he was brain dead, his heart removed, and it's currently beating inside the chest of Julie. So, let's not forget that.
Kristin is going to confess. She's gone to Brady to let him know, but he thinks this is the wrong move. So what if she hurt Victor? Now is the not the time for her to grow a sudden conscience and decide to be honest and uphold the law when they just found out that their little girl is alive and well and she's in hiding with her fake birth mother who also just learned this is not her baby. But, we don't know how this will go. Ciara is holding vigil right now beside Victor at the hospital. Maggie cannot be there what with her prison sentence and all that, so she has to do this herself, and we feel she is going to find a way to make sure everyone is going to find out who did this, and someone will pay for what happened.
What's Happening on Days of Our Lives
.@nbcdays star Stacy Haiduk on Kristen confronting Victor about the Rachel news and how she's staying balanced while self-quarantining https://t.co/1qntEGmnMX

— TV Insider (@TVInsider) April 23, 2020
This is an interesting take.
What's Next on Days of Our Lives
Gabi sees someone who looks exactly like Stefan… and collapses in the square. Watch #DAYS, weekdays on @NBC. pic.twitter.com/9sq6TaH1mw

— Days of our Lives (@nbcdays) April 24, 2020
The week is going to end on a big note this week when it all starts to unfold for Kristin. She's about to learn that Victor might not be so much on death's door as he is on her door. He knows that she did this to him, and now he is awake. This might just make her panic. Maybe she will feel a bit of relief that she did not kill the man, but she's going to be very alarmed when she realizes her murder attempt is now awake and very capable of identifying her as the woman who did this to him. It may just cause some big issues in other ways. On that note, we also know that Ciara and Ben will celebrate. He has a new job, and she's so happy for him. This is a good thing for him.
Eli has to question Victor about what happened. Will he tell? Or does he have another plan in mind for all of this? It could go either way, you know. We know that Victor might not want the world to find out he was behind what happened with the babies, so this might be a situation he'd like to keep close to the vest. Sarah is going to run into Rex, but we already know that. However, he is also going to learn that she's not just in Paris for a happy vacation. She's on the run. How will running into him play into her ability to keep this baby girl with her while she is on the run for now? We don't know.
Stay tuned for more Days of Our Lives and be sure to check out TVOvermind daily for the latest Days of Our Lives spoilers, news, and updates.