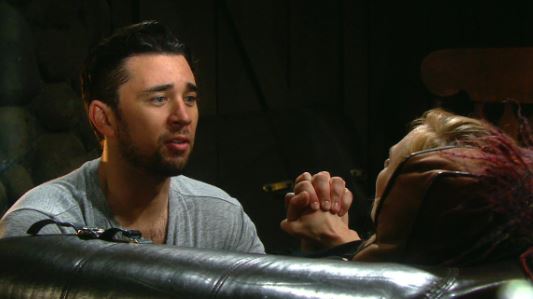 Days of Our Lives fans are not loving Gabi these days. She's got a lot of issues in her world she needs to work with, and she's not. She's focusing her energy on destroying someone who is meant to be her friend. And while we get that what Abigail's alter ego did to Gabi is beyond horrible, and that going to prison and going through what she had to go through was beyond awful for Gabi, she needs to let this go and stop allowing this to control her life. If she wants to give up her friendship with Abby, okay; do it. Give it up and move on. But she's done nothing but continue to make mistake after mistake with her life, and it's been a big mess all the way around. She is not making things work in her life, and she needs to give it up before she ends up really going to prison.
Stefan knows her secret now, and he's not a big fan of hers. He's not a big fan of hers because he is a big fan of Abby's, and he does have some feelings for Abby. But now that he is given this opportunity to see if he can work with Gabi to take down Abby and her marriage to Chad, he might go with it. He might consider this because of what it means for them and their lives. They have so much to offer one another right now, but he might not want to be involved in this given the fact that Abby is having a baby right now and things are not looking all that good for her and her situation. And that's going to be the deciding factor in all of this as the world turns and things move on.
What's Happening on Days of Our Lives
https://twitter.com/SalStowers/status/1062107988746334210?ref_src=twsrc%5Etfw
Days of Days was a fantastic event that we hope you had the time to see for yourself. It's something that everyone should take the time to enjoy and spend time dealing with, but did you get to? Did you treat yourself to some of this fun? If not, we're bringing you a sneak peek right here.
What's Next on Days of Our Lives
For the rest of the year, #DAYS is kicking up the drama, heating up the romance and having a little too much fun. Catch all the action in Salem on Days of our Lives, weekdays on NBC.https://t.co/2BDVKtaemo

— Days of our Lives (@nbcdays) November 11, 2018
Brady cannot keep it together anymore. He's going to come clean with Paul and tell him all about what happened and why he's feeling so guilty. There's just too much on his plate and on his mind at this point in his life for him to feel that he can make any sort of good decision in anything without some help. He is so distraught about what happened to Nicole and the fact that he destroyed his own brother's life by saving it, and things will never work for him again in this manner. He's upset, he's sad, and his life is a mess. Now telling Paul that he's been working against him to make sure that he gets the job so that Victor can get what he wants pitting all these guys against one another is going to change his life.
Paul will probably not react well, but we get that. And then there is everyone else. Sami is still a mess, but Marlena and John are finally happily married, and they'd like to keep things that way. They'd like to make sure they can stay married, that their future is bright, and that things will work for them the rest of their lives. They are in a good place, and we are just hoping that no one else will mess that up for them in any way. They have so much to live for, and they are so happy with one another, and we want to leave things like that for them, but will their kids allow that?
Stay tuned for more Days of Our Lives and be sure to check out TVOvermind daily for the latest Days of Our Lives spoilers, news, and updates.