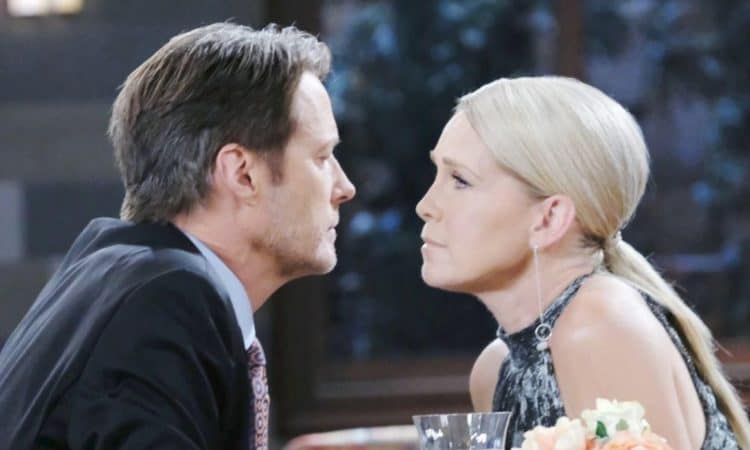 Days of Our Lives fans are not all that surprised that Eric finally lost his. His attack on Xander is not one that we feel is unwarranted. He's a man who doesn't have much else to do other than focus on things that are hurting him, and the loss of Nicole is the hardest thing in his life at this moment in time. He's not handling it well, and we don't really blame him for that. He's got Sarah, but here is a woman who is not always certain that she is over the man she was recently engaged to. They are trying to work this out so that they have something in common, but we just don't know how to handle that in the best way. What we do know, however, is that there are plenty of people around here who are just beside themselves, ad most of them found it oddly satisfying to hear or see that Eric lost his mind.
But Xander doesn't care. He might find it mildly annoying that this happened, but he's certainly not so upset with it that he cannot handle how this is all going down and what it all means. He's a man who does know that there are a few things that will get in his way, and he will not allow for those things to happen. He's also a bit preoccupied with the way things are going in the mind of Leo, who is continually making him some very interesting offers. We aren't sure how this will all work out for any of them, but we do know it should prove quite interesting all the way around. Will he allow these distractions to get I his way, or will he continue on this ruthless path he's been on so long now?
What's Happening on Days of Our Lives
#Chabby gave me life today. It was their classic push/pull and Billy Flynn and Kate Mansi ARE chemistry. Still. #Days

— Haylijah Girl (@HaylijahGirl) January 14, 2019
When it was announced that she would come back to reprise her role as Abby, people were excited. And this is why. Their chemistry is beyond off the charts, and that's saying something for real.
What's Next on Days of Our Lives
Relationships are heating up in Salem this winter. Watch #DAYS, weekdays on NBC. pic.twitter.com/ugatVG3VwF

— Days of our Lives (@nbcdays) January 11, 2019
It seems as if Eli and Lani have been working on a lot lately, and a lot of what they are working on has to do with the fact that there is a situation with Xander. They are working so hard to build a case against him so they can get him into jail, but things are hitting major snags every single time they turn around. They cannot seem to catch any sort of break here, and there is nothing we can see changing that. They're also working on a new romance with one another, and that's something we can see working in their favor in more ways than one. We aren't sure they have much hope for the future, but they are both working on things and making an effort.
Abe, on the other hand, is not very happy with Sheila. She made a very big mess of something, and it might have a bad effect on the rest of her life. She's managed to make a mistake that he will find quite costly, and we aren't sure that this is something they can or will come back from. However, we are thinking that there is more to this than meets the eye. If they can work this out and make their situation turn around, then they will have more control over everything else in their lives. But, we all know how Abe gets when he's mad at someone, and when it costs him, he's even less happy about the entire thing. This is a total game changer in every manner, and we cannot imagine it being otherwise.
Stay tuned for more Days of Our Lives and be sure to check out TVOvermind daily for the latest Days of Our Lives spoilers, news, and updates.