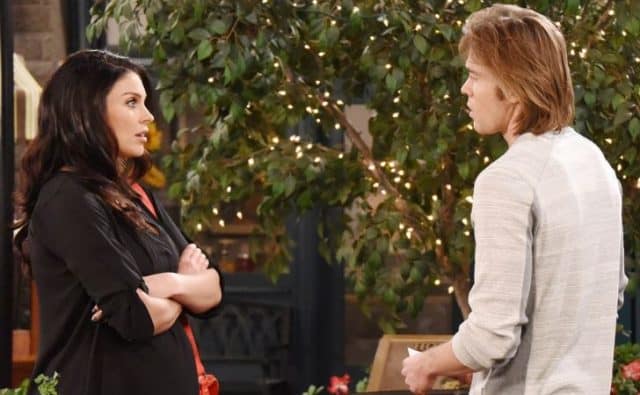 Days of Our Lives brings devastating news to everyone in town today, and no one is going into the weekend feeling good about life. Joey is going to find out his relationship with Jade isn't as over as he assumed it was, and it's not going to be good for him. He's going to find out he is going to be a father. She's pregnant, and he's not going to be happy about it. The only thing that's going to keep him going when she breaks the news to him is the news she only thinks she's pregnant. Hopefully, it'll turn out her fears are incorrect and she's not going to have a baby after all. These two have some serious issues to face, some decisions to make, and some future plans to work out.
Theresa is still doing things to make Brady leave her so she can save his life. He is not happy about her apparent return to the drug game, but she's only faking. It looks like she and JJ might work together to fake an overdose to make her plan work the way she'd like. JJ's got a few other things on his mind at the moment. He is going to sit down with Gabi, the woman he loves, and he's going to tell her something that will shake her to the core. He's not been honest with her. He cheated on her with another woman when he was in Miami, and we think she might have had an idea about.
All Gabi is going to hear when he makes that announcement is that he cheated on Paige, too. Now she's unsure whether or not she's dating a man with a real problem, and she's going to wonder what she can do to make herself feel better. She's got some decisions to make, too. Will she stay with a man who betrayed her and has a history of doing the same to other women? Or will she move on? And when she moves on, will it be with a man she thinks is a widow but whose un-dead wife is watching from the shadows?