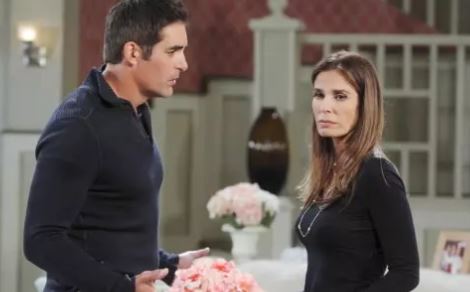 Days of Our Lives fans continue to see Hope and Rafe in a tough situation. They are in the same position right now as they both vie for the position of commissioner. They are both amazing at what they do for a living, but they are not in a very good place with one another right now. Their relationship has been off, and that's pretty sad for us. We love them together. They took things so slow and seem to have so much respect and love for one another, and we hate to see that a simple wedding is what is making them fall apart.
They are not doing a good job of living their personal lives right now. Hope wants the job. She wants it more than she wants to be married. In fact, she's not even sure she really wants to get married. She got engaged, sure. But she's really not happy that Rafe is pushing a date on her and trying to pin her down.
She's so focused on the job right now that it's her excuse for not focusing on the wedding. But Rafe is doing the exact same thing, only he is focusing on their impending wedding. So her desire to forget the wedding and focus on work only seems like an excuse to him. We have a feeling that it won't be much longer before this couple is not in a good place. Could this be the end of their engagement?