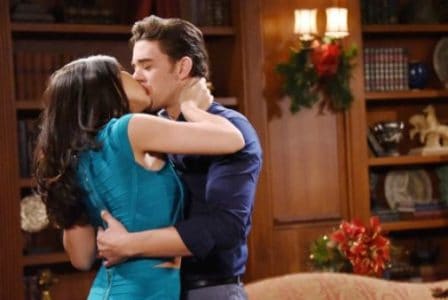 Days of Our Lives spoilers are mostly all about our questions about Chad and Gabi. The first question we have is all about what Chad plans on doing to save Abby. We know she didn't exactly tell him what's going on in her life, but we also know that she's looking to save his. Her new husband is using her and has a photo of Chad that might just make him look guilty of murder. And that's not good. So what might happen when that photo comes out?
If Chad was aware that this is what has Abby being held hostage by a man she married who is blackmailing her to stay married to him and move out of the country, what would he do? Surely he would save her life by doing anything in his power to put a stop to Dario's devious plan. And that is going to mean big trouble for his new girlfriend, Gabi. She won't want to believe her brother would do anything like that — but he is and he will and he's not stopping.
So we know that Abby is going to jump in front of a speeding car to save Chad's life, and that's when he will find out what is going on. And we have a feeling he will turn himself in. Now that he knows this photo is what's keeping Abby in danger, we know Chad will do the right thing and turn himself in to the police to save her life.