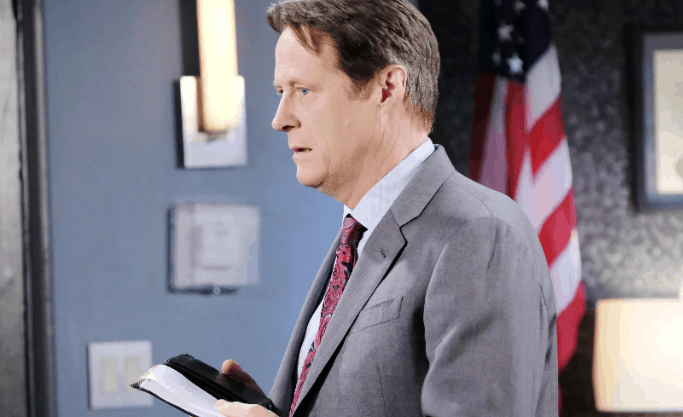 Days of Our Lives fans know that Abe has no idea what is going on, and it almost hurts to see him in this situation. He's not in a good place, and he really does think that he's doing something useful and helpful when it pertains to his situation with Nicole and Stefan. He has no idea she is not really Nicole, and he might not even know just how much trouble he is in working with and for Stefan. But, he put himself in this situation knowing that it's not the best or brightest idea he's ever had, and that is entirely on him. For now, though, he has to focus on things that might be a bit more tragic. He needs to, for example, focus more on his own life than facilitating relations between people who clearly do not care at all for one another in the business sense or the personal sense.
Meanwhile, we are all worked about Lani as she tries to find herself in a better situation with Eli. We aren't sure they have a chance to work this out or improve their situation, but we could be wrong about that. They might have more of a shot than we thought they did, and they might just have more to do than we imagined. However, we also know that Kate is in some serious trouble if she cannot get things to work in her favor. She overheard Xander tell Nicole he killed Ted, but we know he did not. They are friendly, and he wouldn't do that. But, Kate now thinks that he did, and she's not sure what to do. Should she go to Hope with her problem, or does she sit on it and let it fester? And will she be caught eavesdropping? She's got problems.
What's Happening on Days of Our Lives
#days who's team are you on ? I'm on team Kate

— Tia Nicole Roberts (@taylorfantia) June 25, 2019
This is a team Kate situation all the way, for us.
What's Next on Days of Our Lives
Ben, Ciara and Tripp hatch a plan to catch Claire in her lies — by making Claire very jealous. Watch #DAYS, weekdays on @NBC. pic.twitter.com/xwxjeNAJrE

— Days of our Lives (@nbcdays) June 21, 2019
Claire is going to speak to her father, and it will not be good. She's got a confession to make, and we have a feeling it will horrify him. He's been gone a long time, trusting his mother to take care of his daughter and make sure she gets the best she can have out of life, but Claire has lost her mind. She's been working with people who are out to hurt her. She's been working with things that are not her situation, and she's been horrible. And we don't know how to fix that. But, we also know that she is young and she's impressionable, and her father will not be happy when she confesses to him what she has been up to and what she's been doing in her life.
Then there is Gabi, who is going to share a romantic night with Stefan. We cannot figure out what they are doing. They don't like one another, and he really did like Chloe a lot. But, he seems to have forgotten all about her in the wake of her walking in on him while he was in bed with Gabi. It's been ugly, but he seems to be moving on from that in a way that implies he did not care for her at all. She's a mess, and that's just where she is right now. We don't get it, but we do get it. They're a strange couple, but they seem to work well for one another, just in a strange and interesting manner that we don't understand.
Stay tuned for more Days of Our Lives and be sure to check out TVOvermind daily for the latest Days of Our Lives spoilers, news, and updates.