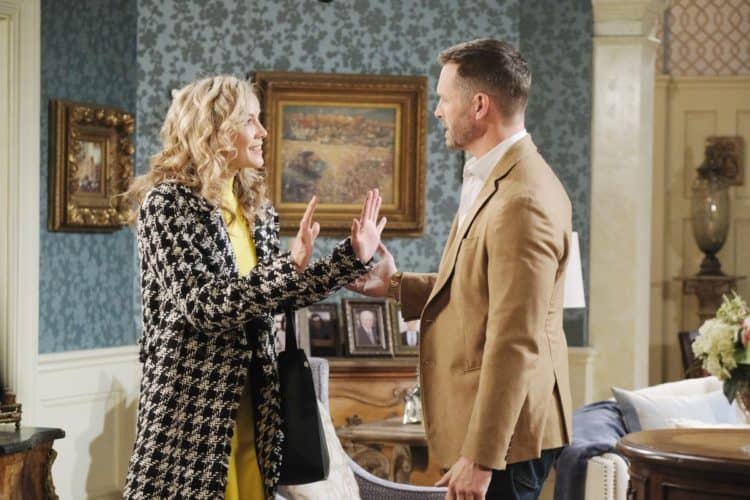 Days of Our Lives fans aren't that shocked that Ciara is in close quarters with Jordan. Jordan hates her, and wants to see her demise. She's already caused some serious issues about this, and we wonder if there is anything Lani can do to protect Ciara. She did not believe her when this all happened, and we all know that even Ben is worried about Ciara and his sister. He's worried enough about his sister that he has gone to Victor to find out if he can help with this situation at all, and that's not a good thing. There is too much going on right now, and we cannot help but wonder if Victor will help him or help himself. That's a thing that happens all the time with Victor, so we can't focus on anything else.
Eli is doing all he can to help get Julie's life saved. He is begging Gabi to help, and she should do it. They have a long history with one another, but that doesn't mean she feels the need to help him out. They did not, after all, work out when they were trying to date one another. However, they didn't seem to have a lot of animosity toward one another when they ended things. They did seem to be all right, and this might help him and his case if he can get her to listen to him. Rolf is looking for something of his own, and that means getting Hope where he wants her, and that means using a trap to do it. Will she fall for it? Gabi has already been working on him to do whatever he can to keep Stefan alive, but what happens if he gets to Hope?
What's Happening on Days of Our Lives
In the latest #DAYS, Ciara's life is threatened. https://t.co/ZsCmioRrzb pic.twitter.com/Y7Dg47N3AP

— Days of our Lives (@nbcdays) October 3, 2019
Isn't it always, though?
What's Next on Days of Our Lives
Distraught over losing Stefan, Gabi will only give his heart to Julie's loved ones if they beg for it. Watch #DAYS, weekdays on @NBC. pic.twitter.com/O6vija5ekn

— Days of our Lives (@nbcdays) October 4, 2019
Hope is trying to get free, but Rolf has her. He is a man who never has a good plan in his mind, so she knows that there is a chance she is in danger. She knows she has to get free, but can she do it before it's too late? He clearly has some sort of plan in mind for her, and that means that her life is in danger whether she knows it or not. Right now, she's struggling. Right now, she's a mess. Right now, she's not going to have much to say about things that are going her way. Then there is Eli, who has to give Doug some very sad news. It's not what they hoped to hear, but they are hoping that things might change.
Sonny and Will are doing their very best to get Gabi to change her mind, but she's not budging. She's not giving anyone Stefan's heart. If she does, it means his life cannot be saved. As long as he is hooked up to these machines, there is a chance she can get a miracle to happen and he will live. Taking his heart and donating it, though, means otherwise. On the flip side, Brady has decided that he will move Kristin into their mansion so he can be with her while she carries his child, and Victor is not a happy man. There is nothing in life he likes less than this, and he's about to show that is the truth throughout the entire process.
Stay tuned for more Days of Our Lives and be sure to check out TVOvermind daily for the latest Days of Our Lives spoilers, news, and updates.