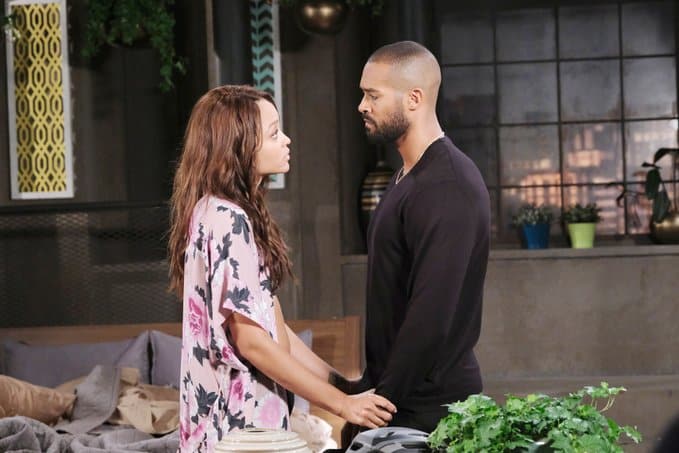 Days of Our Lives fans have been around the block a time or two in the past week. For one, we are horrified and saddened that Rafe had to take Ben back to jail and that Ciara had to do what she had to do to try and save him. He's scheduled do be executed, and we did get to see the love of his life find some evidence that it was not him who killed his own sister, but we all knew that. The only people who didn't know that, well, no, that was everyone. She's the only one who believes him. Well, she and the person who actually killed Jordan. But, that is neither here nor there as we wait to see if she can save his life this week. It's almost too late as he headed in on Friday as she was getting that information, and of course we were all left hanging in the meantime.
Then there was the fact that Maggie had to do all the things that she had to do. She realized she is responsible for the death of Adrienne, and it was not poor Will. She tried to make amends for that this week, but it turns out her own husband is not having any of that. He has been protecting her for a year now, and we all know he will continue to do that in the meantime. She's making apologies though, and it's been hard and emotional to watch her go around telling both Sonny and Justin she is to blame. It's not easy to do that, but she's not about to let a young make take the blame for what she did, and she's going to make it right no matter how hard that is for her and how much she doesn't want to.
What's Happening on Days of Our Lives
https://twitter.com/kristianalfonso/status/1226254950637813760?ref_src=twsrc%5Etfw
We love that she recognizes those who recognize her, too.
What's Next on Days of Our Lives
Maggie admits her guilt, which means Will is innocent… and can return home to Sonny.

Watch #DAYS, weekdays on @NBC. pic.twitter.com/OR8fdBPSLY

— Days of our Lives (@nbcdays) February 22, 2020
The new week will be a big one for everyone, and we cannot help but ask if Ben will be all right? He will not die, right? He cannot because we love him too much. We cannot handle that, and we do not want that, and we are so upset by all of this. Ciara has to come through with the evidence she just found, and she has to do it in time. We know she can, but we are on the edge of our seats regardless. We also know that there is nothing she can do but hope and pray that she is on time, and we think she will be. Right? She cannot do this on her own, but she has Will working with her to help her out for all of this and we hope that they have enough and that they are on time.
Sonny will share with Evan all that happened with Will, but this puts a bad situation in Will's and Sonny's future. Evan now has Sonny hostage, and he is not allowing him to go free. He needs to make sure that this information is kept close to the vest — and that he is the father of the baby that belonged to Jordan. He is David's father, and he cannot have anyone else ruining his life. Will anyone find him and save him before it is too late, or is there a lot more going on that we don't know about? We cannot be sure. This is not a good situation, and this week is going to be difficult.
Stay tuned for more Days of Our Lives and be sure to check out TVOvermind daily for the latest Days of Our Lives spoilers, news, and updates.
Tell us what's wrong with this post? How could we improve it? :)
Let us improve this post!