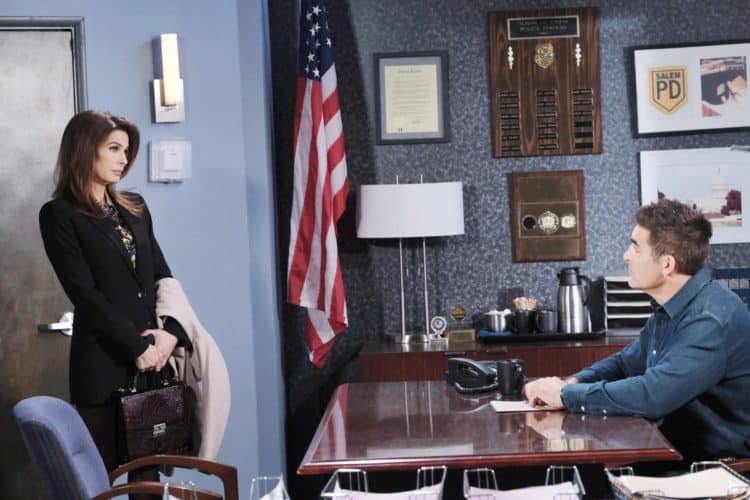 Days of Our Lives fans don't know much about what is going on right now with JJ and with Lani, but they are bonding over her going to him to talk to him. She's been through a lot since her situation with Gabi last year, and she's a wreck. JJ is an old friend, and she can see that he can use a friend right now. They are both struggling very hard right now to make things happen in their lives, and they are not going to give up this easily. They seem to have some bigger issues to deal with, but we think that there is more to this than meets the eye. With his addiction and his feelings about Haylee being so vivid in his mind trying to figure out what happened to her and Lani trying to escape the past and the hurt she's caused, they are quite the pair.
Nicole just took a page right out of Kristin's book, too, and lied her butt off to this woman. She told her that things were going well with her and Brady and that they are not what they seem, and she just lied outright to her about all the things that are going on. She's a mess, and we cannot handle that in our minds. We are not sure we can focus on anything other than what Nicole is doing right now. What part of lying has worked out for her at all this year? She should know better, but it appears she does not. On that note, we are not sure she can get it together in any capacity. We know the actress is leaving, but we have to ask on what kind of story line? There's so much that might work, but we don't know what it all is.
What's Happening on Days of Our Lives
In the latest #DAYS, Justin cautions Ben and Ciara not to get their hopes up.https://t.co/ZsCmioRrzb pic.twitter.com/WhZq0Xq2z6

— Days of our Lives (@nbcdays) January 6, 2020
It's not looking good for Ben.
What's Next on Days of Our Lives
Lives hang in the balance as Victor collapses and Ben waits to hear if he'll be given the death penalty. Watch #DAYS, weekdays on @NBC. pic.twitter.com/JSPgjfrgSg

— Days of our Lives (@nbcdays) January 4, 2020
Kristin is a woman who has a lot going for her, but only if she can change her ways and make things happen that are good for her. We don't see that happening, however. She's going to find herself shocked when someone shows up on her doorstep that she did not see coming, and it's going to be a thing for her. She's not someone who can wait any longer for this, and it's going to be a big deal for her. She's got so much going on in her life, and she's not handling it well. So, she's going to be shocked when someone shows up, and we cannot wait to see who it is. On the other side, we know that Jack is not happy with Steve. He is going to ask his brother what is going on and what is making him act this way, and it's not going to go well since this is not really his brother.
Brady is not going to know how to behave right now, but he will find himself thinking that the lies that Nicole told are lies he needs to go with. He needs to know that he can be safe from Kristin in this moment he is not happy with her. He does not want to be with her, and he needs to do what he needs to do to keep her away. Kate, on the other hand, is not happy with Will. She's warning him about Evan, but will he listen?
Stay tuned for more Days of Our Lives and be sure to check out TVOvermind daily for the latest Days of Our Lives spoilers, news, and updates.