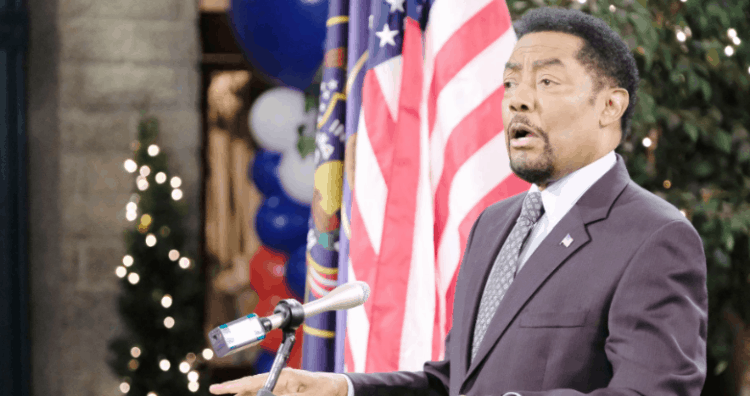 Days of Our Lives fans are still reeling over all that happened last week and in the past few weeks. A missing baby. The return of so many dead people. We are sitting her wondering what is going on, how everyone will cope, and what this week will bring. For one, we know that Ted is a nasty man who has a lot of nasty friends, and he's deep in all that is going on in Salem right now, but Hope refuses to see it. He's a man who epitomizes the word slimy, and no one cares for that in the least. He's a man who makes us all want to wash our hands and say a prayer of thanks we don't know anyone like that when we see him. But, he's gotten to her, and she's making poor decisions left and right as a result. In the meantime, though, we are going to hope she comes to her senses soon.
Nicole is not dead. Eric forgot who Sarah was. Sarah, on the other hand, did not forget Eric. She might not be willing to leave Rex and be with him, though she is insistent on finding out how Eric feels about her in every single manner of speaking, but she is now upset and unhappy that his love is back. She had her chance, though we are sure that he would have been very conflicted if she'd left Rex for him, they would have ended up together, and then Nicole came home. We feel that he will leave her for Nicole in every manner of speaking no matter what happens. He's that guy, but not in a negative way. He just loves her so much. That's sweet, but how long will she stick around this time? We cannot say.
What's Happening on Days of Our Lives
In the latest #DAYS, Eric is reunited with Nicole!https://t.co/ZsCmioRrzb pic.twitter.com/nSo713vcUU

— Days of our Lives (@nbcdays) April 30, 2019
Can we just take a moment to discuss how we all feel about this?
What's Next on Days of Our Lives
Three familiar faces return to Salem for some unexpected drama. Watch #DAYS, weekdays on NBC. pic.twitter.com/E49yTceOcR

— Days of our Lives (@nbcdays) April 26, 2019
Things will take a drastic turn this week, and it will be because Hope and Rafe cannot get along. He will disobey her order at some point in something they are doing, and someone will end up hurt. And by hurt, we mean the word tragic has been thrown around more than once in the past few weeks. And we don't know what this means. But we have to assume it has to do with Awful Ted. Meanwhile, we will learn more about Xander and Nicole and what happened there. We will also learn that Ciara and Ben cannot get things right in their lives until they focus on themselves, but they have a desire to help others. Lani will continue to get closer to this baby who is not her baby. And we have some very, very exciting news for fans of Days.
Salem is about to have a welcome visitor. Someone is coming back. Someone we, personally, have been begging for since he was written off without a second thought. You guys, Stephen Nichols is coming back. Patch is back, and we cannot even control our excitement or hide it in any way. We cannot wait to see his reunion with Kayla, either. They need one another, and we cannot wait to see them focus on this and turn it into what it is. We are so excited, and we are waiting very impatiently for the day he returns and warms our hearts.
Stay tuned for more Days of Our Lives and be sure to check out TVOvermind daily for the latest Days of Our Lives spoilers, news, and updates.