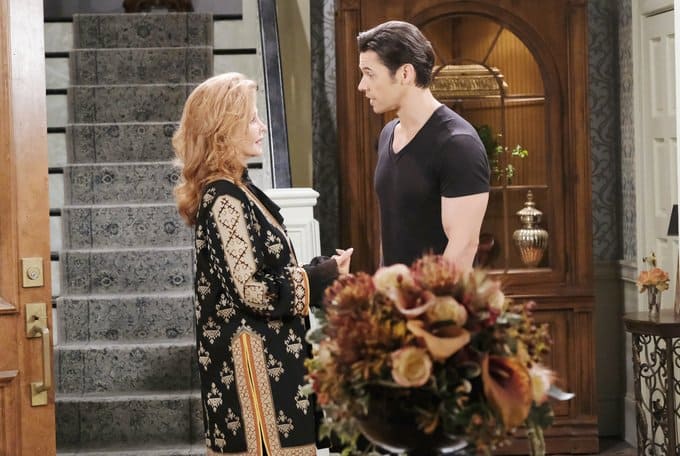 Days of Our Lives fans are not surprised to see that Eli and Lani are back together. They were never meant to be apart, but Lani had to do what she could to save the lives of the people she cared so deeply for on her wedding day when Gabi made it clear that her marriage to Eli would come with serious repercussions. She had to get out of town, get out of his life, and she had to do it without saying a word to him. It was nothing that would ever be all right, but she had to do it. Now she has to do something more and something better with her life and with her time. She's got to be there for those who love her, and she's got to live her life that she was meant to be living for the past year. We knew this would happen, but we couldn't wait to see it actually come into existence.
Maggie has confessed the truth to Sonny, who is in shock. He had no idea that Will was not to blame for any of this, and that is nothing that anyone should ever take for granted. There is a lot that we don't know and there is a lot that we cannot handle, but there is also a lot that we can't get over. Will this save their marriage even though Sonny has met and been with another man while Will was imprisoned for a crime he did not commit? Will this change the game forever? We don't know, but we do know that this has been nothing short of a nightmare for Will, and his life is forever changed beause two men decided to cover up the truth and pin a woman's death on Will himself.
What's Happening on Days of Our Lives
In the latest #DAYS, Victor all but begs Will not to expose Maggie. https://t.co/ZsCmiozQaB pic.twitter.com/QqRcwAjzcz

— Days of our Lives (@nbcdays) February 25, 2020
Um, yeah right.
What's Next on Days of Our Lives
Maggie admits her guilt, which means Will is innocent… and can return home to Sonny.

Watch #DAYS, weekdays on @NBC. pic.twitter.com/OR8fdBPSLY

— Days of our Lives (@nbcdays) February 22, 2020
Maggie is making her rounds this week. She has already confronted her husband and Xander about the flashbacks and memories she was having, and she's been able to confirm that she did, in fact, do something horrible. She's had to talk to Sonny about it, and she's had to tell him that it was never his husband who did this, but it was her who did this and caused this entire horrible mess. Now she has to talk to Justin and tell him the same thing. She is also going to apologize to him, but we are not sure that he can forgive her for taking his wife from her. She is sorry, but will he be able to accept that from her after all this time even if she did not remember until just now that this is her own fault? We don't know.
Ben is going to die. He's going to be killed because he knows that they think he is guilty, and they will never let him live. He has to find a way to deal with that in his life, and he has to find a way to know that Ciara will be all right when he is gone. Stefano is going to attack Gabi today and that will not go well, either. Will, on the other hand, has a surprise for Sonny. But, we aren't sure that he's going to be able to go on with this and make things work after everything that has happened in the past year. It has been a long one, and it's been one we cannot describe.
Stay tuned for more Days of Our Lives and be sure to check out TVOvermind daily for the latest Days of Our Lives spoilers, news, and updates.