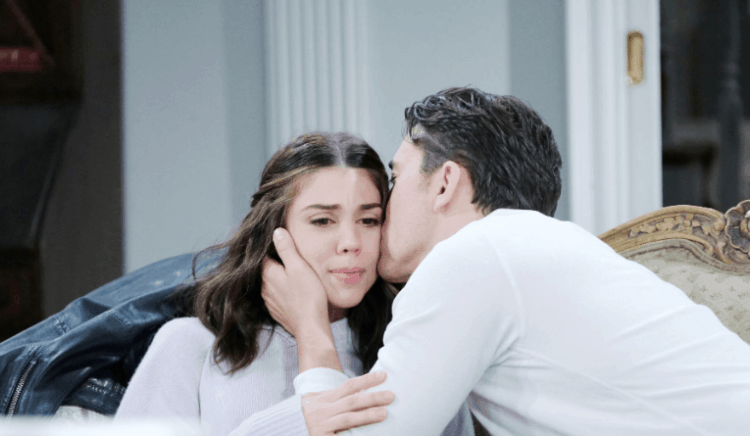 Days of Our Lives fans have more questions than answers at this point in their lives, but that's all right. This week has been a very crazy one, but that's also okay. A lot has happened, and it's time to take a quick look back at what that was. For one, we know that JJ Is working very hard to ensure that he can convince Jack to say nothing about all that's going on with Haley. Her immigration status is not favorable, and he's clearly falling for her. Will his father understand that and listen to the son he doesn't remember, or will he do what Eve wants him to do and let this information out into the public? We don't know what to expect from any or all of this — and we are not sure how to focus on anything other than this. For now, though, he's just hopeful. Eli had to bring Sonny and Will to the police station to ask a few questions, and that is nothing Leo is pleased to hear about.
Abigail and Chad have been faced with some big decisions in the past few weeks, and they are making another big one today. Their decision will affect everyone for good, and there are some people who will be so happy to hear this. There will be others who are crushed to hear this, and they will not find anything amusing about this. But, we are all excited about the choice that they are making to make this situation work. Seeing them get married is all we've been hoping for, and we are all excited to get to see them make that happen in the next day or so. We know their time is short, but that doesn't mean it's not going to be totally worth their time.
What's Happening on Days of Our Lives
https://twitter.com/nbcdays/status/1098311366014894082?ref_src=twsrc%5Etfw
There is nothing we love more than this being something that we can get on board with. It's a fun work day around here.
What's Next on Days of Our Lives
Love is in the air for Chad and Abigail as they get ready to get married one more time. Watch Days of our Lives, weekdays on @NBC. pic.twitter.com/XlibR90G8D

— Days of our Lives (@nbcdays) February 15, 2019
Today is a big day for Abigail and Chad. They are going to get married once and for all. They tried earlier last year to make it happen, but it did not go well for them. They had so much else going on in their lives, and they had their wedding interrupted. Then the personality thing happened. Then the baby was born, then the whole dad back from the dead thing, then the who baby switch thing, and the kidnapping and all of it. They were not in a good place, and everyone was working against them to make it stay that way. It didn't, and now they will tie the knot in front of their friends and their family — and then they are gone for good. They aren't coming back to the show, and they are both going to leave their roles as of today. If you want to see more of them, this is it. Tune in and check it out.
And then there is Stefan, who just realized that by marrying her husband, he's never getting back the girl he loved. The girl isn't real. Gabby is not a real person, but he doesn't care. He was very much hoping that this personality that Abigail created would take over her life and make things happen for her that would make Gabby the real version of everything she had to say and do. It's not happening, and that is all right. But, for now, we are just going to hope that there is a little something that he can just move on from.
Stay tuned for more Days of Our Lives and be sure to check out TVOvermind daily for the latest Days of Our Lives spoilers, news, and updates.