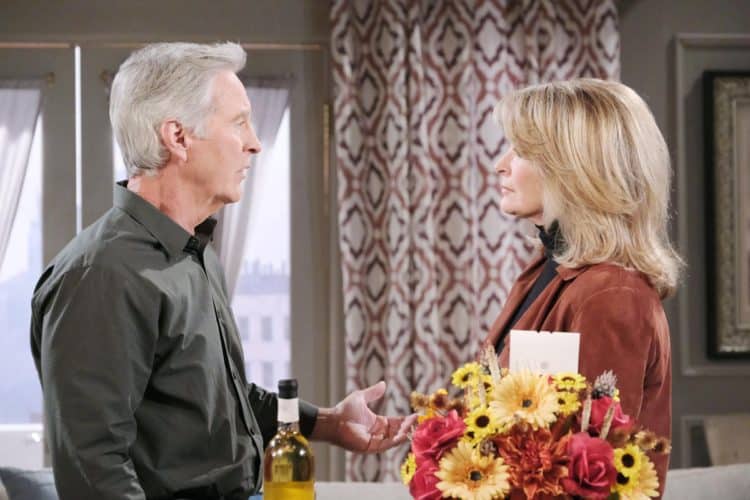 Days of Our Lives fans know that there is so much going on with Marlena and John, and we still have no earthly idea what happened to them, around them, and in their lives in the year that is missing. We know that we have to be patient and practice understanding when it pertains to learning more about their live the past year, but we are not that patient. We want to know what happened and how they got to this point in their lives, what to expect otherwise, and so much more. We want to know all of the things, and we want to know if there is anything we can do to make this happen more quickly. Since we assume the answer to that one is a big fat no, we just have to sit here and wonder if Princess Gina spent the entire past year trying to get him to herself, and what is going on with Marlena's secret admirer.
She and John seem to think this man is Stefano, and that he is back and ready to spend the time making them all miserable. We can assume this might be true, and it might be a real thing, but what do we know? There is so much that might happen here, and it might just shock us, but we have to ask what is going on and how it will all work out. They have an idea, and they are rolling with it. We saw them spend Monday convinced that it is him, but we have our own ideas that we've discussed with you before. We know that Princess Gina is ruthless, so we don't know that she is being entirely honest about this or what is going on. We think it might just be her doing all this.
What's Happening on Days of Our Lives
Inside Salem has an exclusive interview with Head Writer Ron Carlivati to discuss everything you need to know about the big time jump twist. Then, hear the cast's live reaction from Day of Days!

Don't miss the latest episode of Inside Salem! https://t.co/9vlZu6fkQB pic.twitter.com/YsLIt7huTH

— Days of our Lives (@nbcdays) November 26, 2019
Did you get to listen?
What's Next on Days of Our Lives
Stefano's eerie return takes everyone by surprise. Watch #DAYS, weekdays on @NBC. pic.twitter.com/ghIGabF4ip

— Days of our Lives (@nbcdays) November 29, 2019
Ben is spending a lot of time with Clyde because of their current situation, and we can all agree that this is not a good thing. They have to get themselves apart or else they are going to go crazy. But, what we are going to see this week is that Ben has to work hard if he has any hope of getting things to work in his life. He has to get his situation under control for things that are not going his way, and that's all there is to it. What we can see is that Ben has to stop Clyde from hurting Will. Will is clearly in danger, and things will not work out well for him if this continues. We cannot see this happening, but he has to stop him or else Will might not make it to Christmas.
Then there is the stuff that is going on with Ciara. She's on a suicide mission to take down Xander and anyone else she can get her hands on. She's struggling to get her life together, and she's a mess because of it. She's got so much more going on in her life that is not going to work in her favor, and that's all there is to it. She's got so much going in her life that she cannot figure out what is going on. She's got to stop him, but she's going through his locked metal box, and she might not like what she has to find in there. Or will he catch her, first?
Stay tuned for more Days of Our Lives and be sure to check out TVOvermind daily for the latest Days of Our Lives spoilers, news, and updates.