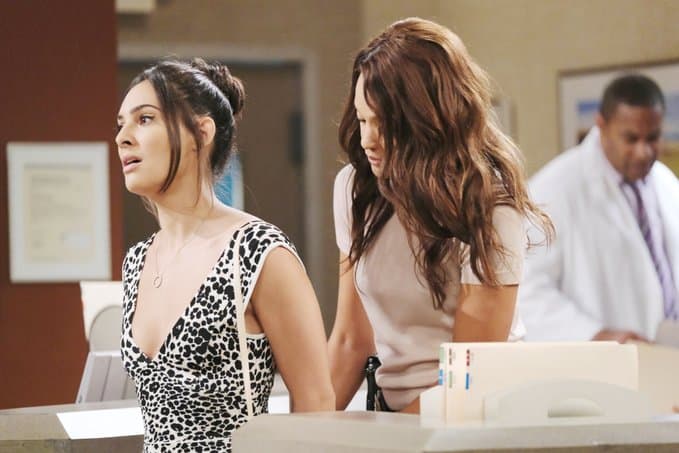 Days of Our Lives fans are not shocked that Rafe was shot. His life, since he got involved with Jordan and her son and Evan and his mess, has been nothing short of a total disaster, but we did think that they had more to go on than just this. We did assume that there was a chance that they might be able to get a little further with things than they did before this happened, but we get it. He's struggling with looking for David, and Orpheus has a plan that simply does not involve Rafe finding him and rescuing him, so we aren't surprised he was shot. But, we are shocked that Justin decided to take out his anger on Orpheus. He, of all people, knows precisely what this man is capable of, and he should know that his anger is not going to get him any closer to finding out the truth about what he needs to know.
This is a dangerous mission for all, but they're pushing through. On a slightly happier note, however, we did get to see a little of the more romantic side of Sonny and Will. It's been a while since they were able to have some quality time in their lives that was not marred by lies, darkness, and prison. It's also been hard for them knowing that Sonny was initially attracted to Evan and that he was willing to end his marriage for his man who turned out to be a complete lunatic. However, seeing them share some romance and some happiness in their lives is something we simply cannot get over in our own lives. They are good with one another. They're both leaving the show, so we'll take all the screen time they can give us before that happens.
What's Happening on Days of Our Lives
Let's come together for a great cause. Join us tonight for a night of @RedNoseDayUSA FUNdraising on @NBC starting at 8/7c. Donate and make a difference at https://t.co/tW1ZKtFysH pic.twitter.com/dlAXw5H7hu

— Days of our Lives (@nbcdays) May 21, 2020
We love these.
What's Next on Days of Our Lives
It's a week of great loves as Eric proposes to Nicole, and Steve decides he's going to win back Kayla. Watch #DAYS, weekdays on @NBC. pic.twitter.com/YGpjgGcMNU

— Days of our Lives (@nbcdays) May 22, 2020
It's another day of drama today, but today is a different sort of drama. Since Jack has been back from the dead — and actually knew who he was and wasn't with Eve anymore — he's been by Jennifer's side and trying to enjoy his friends and his family. He's taking time today, however, to make it clear and known that he is done playing games with the people around him. He's not having any of this any longer. He's not standing by while Gabi continues to do what she's doing to the people in his life and in her own life, and he is confronting her about said behavior.
But, in the tradition of keeping with all the things that shock us lately, there's a third proposal in as many weeks going down today, and it's a big one. Today, we are going to see Eli ask Lani to marry him. We cannot imagine she will say anything other than yes considering all they've been through in the past. Their life has been a mess of so many sorts in the past, and they have not had much else to say about that. Ciara is going to ask Julie a very serious and important question today, and we assume it's wedding related. But, today is the day that Abigail is going to leave town. She'll use this as her opportunity to say goodbye to her loved ones as Kate Mani makes her final exit from the show, and she's going to bring tears to all of our eyes. Get your tissues ready.
Stay tuned for more Days of Our Lives and be sure to check out TVOvermind daily for the latest Days of Our Lives spoilers, news, and updates.