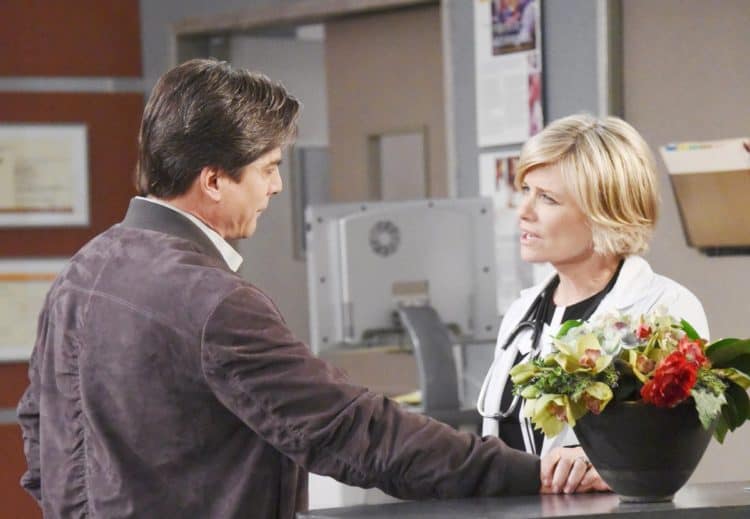 Days of Our Lives fans are still reeling. The last week was a doozy, and there are so many things going through our minds right now. There is the situation with Kate, for one. Will someone really get her heart? Will it really go to Julie? And will Julie really get to live with Kate has to die? This doesn't seem that fair, but it is what it is. And then there is Gabi. The girl cannot get a break, and we cannot figure out why. She's got his man she's clearly in love with, and things were actually going really well for them, but it turns out they are not going well anymore. When they got together, it was after his mother was declared dead. Now she is back from the dead, and she is causing major issues. And that is not going over well with anyone around here. She's got some issues, and it's not a good thing. For now, though, we can only hope she will end up with some better situations in her future.
She ended the week overhearing a conversation between her husband and his mother in which his mother told him that being with Gabi is not good enough for him. He should be with someone like Eve. They should get together, they should rule the company, and they should take the family for all they have. She does not feel it's too late for her son to do that and to make that happen, but Gabi is not happy to hear it. We don't think Stefan feels that way, either, but what do we know at this point? Going into this week, we just wonder what will happen, how it will all end up, and what will end up being the issue when someone else decides to focus on things as they are.
What's Happening on Days of Our Lives
In the latest #DAYS, Sarah makes an important decision about her baby.https://t.co/Gv7Weumrvw pic.twitter.com/GTTrOMwCFL

— Days of our Lives (@nbcdays) September 21, 2019
This will never happen.
What' Next on Days of Our Lives
After all the twists and turns, Jack finally gets his memory back – and remembers who Jennifer truly is to him. Watch #DAYS, weekdays on NBC. pic.twitter.com/eyZqeIpCyX

— Days of our Lives (@nbcdays) September 20, 2019
We are going to see a change in Hope this week, but it's not for the best. We hate to say it, but things with her are only going to get worse before they get better. She will change a little at a time, but you will want to take notice of what is going on in her life. She will slowly begin to change in the way that she will seem a little different. She will seem a little more tired than usual. She will seem a little more withdrawn than she's been in the past. She will be a little less happy, a little less herself, and a little less everything that is good in the world, and that will be something her family worries about. John and Marlena will be the ones who notice first, and we hear that their fear for her is going to turn into something big.
Meanwhile, we also know that Kristin's very interesting situation is going to change for her. She wants Rolf to take the baby that Sarah is convinced she doesn't want to have, but she doesn't want her to kill the baby. She wants the doctor to take the fertilized embryo and implant it in herself so that she can tell Brady she is having his baby. But, it turns out she is already pregnant, and that means she is going to get the chance she's been looking for. This mess is not going to get better anytime in the near future, but it is going to get a lot more interesting.
Stay tuned for more Days of Our Lives and be sure to check out TVOvermind daily for the latest Days of Our Lives spoilers, news, and updates.