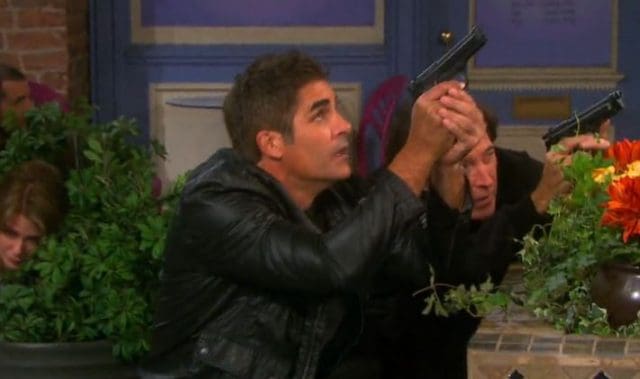 It's time for people to take down the convicts terrorizing their small town on Days of Our Lives. We just saw Chad do what he needed to do. He recruited a team of his own to take down the men who are making everyone's lives miserable. He's got Adrienne and Lucas on his team, and they have a solid plan. Their plan is one of several that people have come up with to get these men to get out of town and stop making everyone's lives miserable. Chad is a smart, cunning man, and we believe he might be the one to finally put these men to the test. Can he do that and still come out alive? He has a little boy to think of, his wife is already dead as far as he is concerned, and he has no idea she's alive and coming home to him in a matter of months.
Nicole is also in on a plan with Deimos, but we don't know if her face-to-face encounter with Xander is part of the plan or if she's in serious danger. We are worried for her, but we don't know if we should be. She's a smart woman with strength, and she's got her own back. She's in the middle of her own issues with Deimos and Chloe, but she's also working hard to make sure she's able to get her own life in order before it's too late. Can she handle what's being thrown at her? We think she can, but it's not always clear.
The only good thing right now is that the trio of criminals is breaking up. Clyde has no interest in working with the other now. They can't get their minds made up about the plan they came up with, and Clyde has no reason to stick around and work with them. Without the power of having them together, can the people in Salem come together to overtake these men and their troubles? There is a rift, and it seems to be big enough to let people get it and make a difference. Are we about to see this battle go down in history?