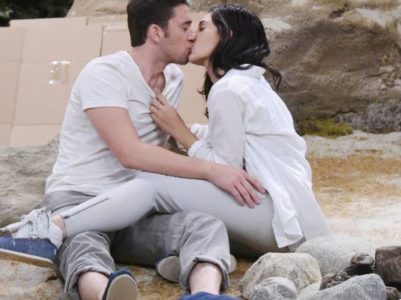 Days of Our Lives spoilers tell us that before everyone is rescued, someone is going to catch Chad and Gabi kissing on the beach. JJ is not going to appreciate this little discovery, but he can't do anything about it. He's not dating her anymore, and there is nothing he can do about it. But that does not mean he has to like it. That's his ex, and she's kissing his sister's husband. He's not thrilled, and we wonder just how unhappy this might make Lani since they are the ones who find out this is going on. There might be a few moments of discomfort in this situation.
The point is these two don't care who knows or what they know. They want to be together. They have no idea they will be rescued anytime now, and that they will be home in a few days. They want to spend whatever time they have left together, and this is just one more disaster that's bringing them together like the rest of them they've been through this year. They don't know John is on his way and their rescuers will be here before the week is over.
What we do know that Paul is still struggling. He has a high fever and he can't just let it go. He has to find a way to deal with this, and he doesn't have much clarity among the moments of madness. He's not going to make it if help doesn't arrive, and we hear he might beg his friends to kill him.