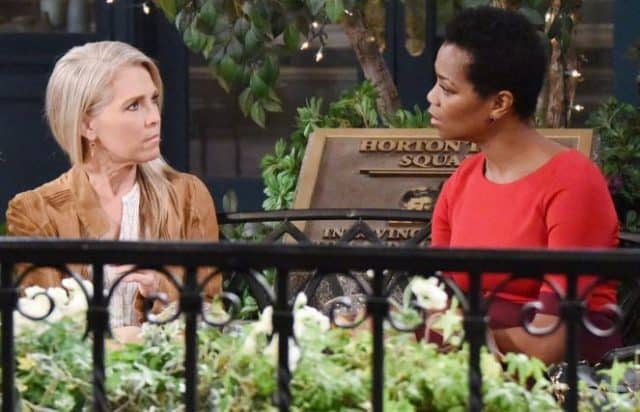 Days of Our Lives is back for the week, and it's back with a bang. It turns out that Nicole just can't let it go. She's now in agreement with Chloe that perhaps her daughter is not safe with her. After all, she's fresh out of jail after being arrested and accused of attempted murder charges, and her husband-to-be is making waves by being such a notorious criminal. He kills people. He sends people "away" and he is responsible for a lot of death and mayhem. Why would anyone want to raise a child in that situation? We thought that Belle would be in Chloe's side in this situation, but she seems to change her mind as the week moves on. It's clear to everyone that Nicole has only ever wanted to be a mother, and she's not going to give up. But will she make the decision she needs to make, or is it even unfair for someone else to decide whether or not she is a fit mother?
The other issue arrives when Jen heads down to the docks to see what's going on there. There's an investigation into what's happening there and why it's happening, and she's right in the middle of it. Unfortunately for Jen, she's going to find something even more shocking than she imagined. Do you think you have an idea what it is? Perhaps she's going to find something that sends her spiraling out of control.
Hope's situation isn't getting any better, either. She's going to have a very bad moment in which she sneaks out of the house and away from Eric, and she's going to come very close to being caught by the police. She needs to be careful, and she needs to heal before she heads out and makes a mess of her life even more than she already has. Her friends are in Prague at the moment looking for a way to clear her name by finding Stefano alive and well. They're getting close to finding a way to get her out of her situation, but she needs to be patient.