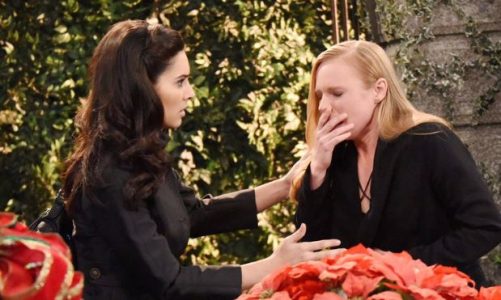 It's an amazing day on Days of Our Lives as it seems most story lines are being answered in a way they haven't been in some time. Chad is well aware of the fact that his wife is now alive, and she is back in his life. He's handling it the best he can, but he is in shock and confused about what has happened over the course of the past several months. Can he get over what's bothering him and make a decision regarding his future? Gabi decided she had to tell Chad that Abby was alive, but she was too late. She already revealed herself to her husband, and Gabi isn't able to share her secret. So far, he doesn't know that Gabi knew Abby was alive and didn't tell him, but he's going to find out and it's going to make things even worse.
Chad is devastated, and he's not sure he can trust his wife anymore. Gabi and Abby are going to have it out when she mentions she saw Gabi kissing her husband, and she's going to have something to say about the fact that Gabi isn't anymore trustworthy than she is considering she failed to mention she knew Chad's wife was alive. She moved in on a married man with a child knowing his wife was alive and how devastated he's been over her death, and that makes her just as bad as Abby. How much longer until Abby reveals to Chad that Gabi is just as dishonest and deceitful as she? Chad isn't going to take this lightly when he finds out.
Hope's life is in danger, and she's doing all she can to help herself and save her own life. She's working on building an army of her own to help fight her enemies, and she's going to need all the help she can get. These are women who have been put to jail as a result of Hope's police work over the years, and they hate her. Will they end up killing her, or will Hope be able to protect herself from the women who want to see her pay?