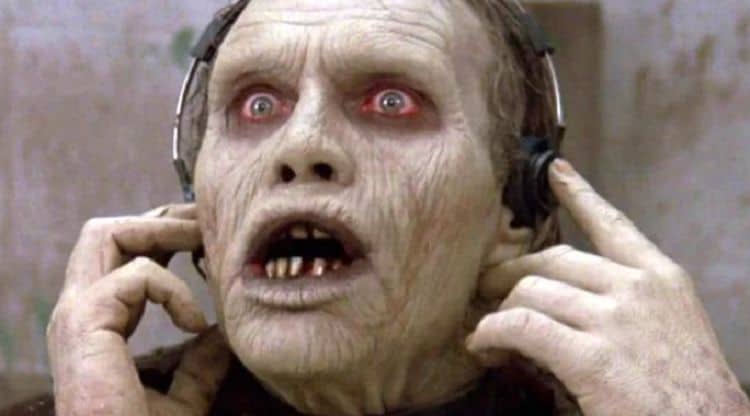 Just when it would appear that someone is willing to wake up and say that remakes and reboots aren't working as well as they should, they keep being made. Day of the Dead, a George Romero classic that was goofy even in the 80s when it released, is coming to the Syfy Channel at some point as a series, and a lot of people experiencing mixed feelings about it. If you have to wonder why then you might not have seen the movie or might not pay attention to zombie movies. To be sure, zombie movies and TV shows aren't everyone's cup of tea, but for those that enjoy them or at least follow them, there have been a few to pay attention to in the last decade or so and there are some that have been downright horrible. The Walking Dead, which used to be the gold standard that a lot of people would gladly reference, has for several seasons been less and less the gold standard than the cautionary tale since between changing how things go, killing off various characters, and creating a new narrative that deviates from the source material, TWD has been declining in popularity for years now. George Romero's creations, such as Night of the Living Dead and Dawn of the Dead, are just as goofy in a lot of ways but are still considered classics by many fans. The only problem now though is that if this series is going to be a remake one has to wonder how in the world it's going to treat the source material and if it will give fans something to be grateful for or if it will leave them foaming at the mouth. More than a few people are ready and willing to speak their mind these days when it comes to their favorite fictional shows, and thinking that people will be silent if they get anything less than what they're expecting.
Pleasing fans should possibly be one of the easiest things to do when it comes to movies and TV shows, but somewhere along the line, fans became insanely demanding and have wanted more and more as the directors and producers, and everyone involved has continued to acquiesce to their demands. It's fair to say that the advances in makeup, special effects, and storytelling have been greatly appreciated by a lot of fans, but there are still plenty that aren't as easily impressed and still want to see something better, gorier, and more violent when it comes to zombie material. One thing that tends to kill a zombie movie or show is, ironically, one of the elements that any show needs to keep moving forward: drama. Every show needs a little bit of drama, even if it's just a minor break in the action to slow things down and let people take a breath. But adding in too much drama, which isn't difficult at all, can kill something off quickly and without mercy since the continuation of drama as it happens in any show or movie with action can take time to develop and end up eating away at the minutes that need to be used to focus on the action and the development of the story. The balance that's needed between drama and action in any production is a tenuous thing at best since it depends on the story and the pace that's been set. But if there's one thing that can make people stop watching a show that might actually be decent, it's plugging in WAY too much drama.
A series that's essentially a zombie story being remade is going to have drama, there's no denying that, but stretching those dramatic scenes without injecting a certain amount of horror and intrigue into them is a mistake that could be made very easily. It might be a mistake that the creators are hoping to avoid since this series sounds like it's a go and that it will be showing up eventually to be judged by the fans. Zombies have been such a big thing over the years that it's been easy to wonder when the interest in them is going to crash, and so far nothing has happened on that end, but there have been plenty of shows and movies that have come and gone, while only a handful get remembered. Thinking that this attempt will be something different is a little ambitious since unless the story can be redone in a way that will make it clear that this is different and that it does somehow tie into the original story, then it's bound to flop pretty hard since zombie shows are still popular, but they're becoming normalized in a way that makes them less exciting at this time. It's a hope that this series will work, but it's not a guarantee.