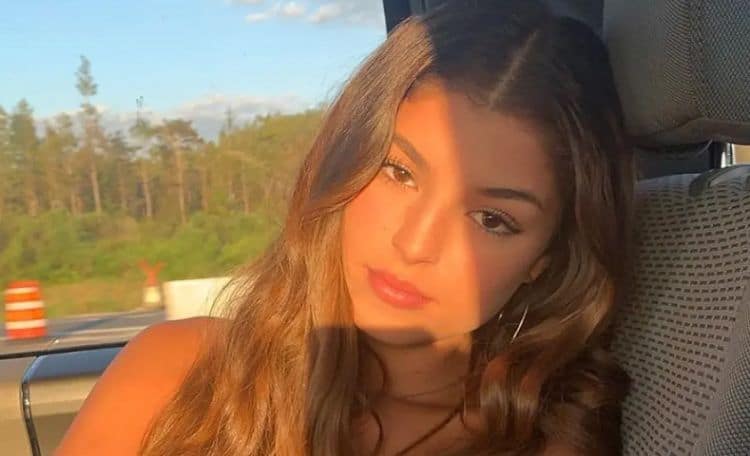 Darianka Sanchez is young, ambitious, and beautiful. These three ingredients are the often the keys to to becoming popular on social media, and there's no doubt that all of these things have worked in her favor. Darianka has become a social media sensation and she has gained hundreds of thousands of followers. On TikTok alone, she has a fan base of over 646,000 people, and her videos have earned nearly 9 million views. Although she has experienced some bumps in the road, there's no doubt that Darianka has the potential to have a long lasting career on social media or what ever else she chooses. Keep reading for 10 things you didn't know about Darianka Sanchez.
1. She Won't Be Joining Hype House
Earlier this month (June), news broke that Darianka would be the latest person to join the well-known TikTok clique, Hype House. However, lots of fans weren't feeling the idea and quickly got on social media to speak out. Within about a week of the announcement, Hype House revealed that she wouldn't be joining. Apparently, the decision not to let Darianka join stems from allegations that she bullied fellow TikToker, Kenzie Ziegler.
2. She's Signed To A Modeling Agency
Social media may be Darianka's claim to fame, but that isn't the only thing she has going on. She is also a model who is looking to expand her opportunities. She is currently signed to an agency called NEXT Management. According to the company website, NEXT "is known for discovering and propelling the world's most recognizable models to stardom."
3. She Used To Be A Cheerleader
Before Darianka started gaining fame on the Internet, she was just a 'regular' teen who attended school and participated in activities. She was a member of her school's cheerleading time. However, it's not sure if this is something she did all four years of high school.
4. She Was Born In Costa Rica
Darianka has gotten the chance to live in two countries. She was born in Costa Rica where she spent the very early part of her life. She and her family eventually relocated to the Orlando, Florida area which is where she went to high school. Darianka is bilingual and can speak both English and Spanish.
5. People Are Calling For Her To Be 'Cancelled'
Being on social media can be great. However, it also means you have to deal with countless opinions from people you don't even know. This is something Darianka is currently experiencing first hand. Amid allegations of bullying, lots of people on the internet are demanding that Darianka be canceled. Essentially, this means that people are hoping others will stop supporting her once they are made aware of the bullying allegations.
6. She Was Homecoming Queen In High School
Becoming popular on the internet isn't the first time Darianka has gotten a lot of attention. She was also a popular student in her high school and she won homecoming queen. When you're in high school, winning an honor like homecoming queen definitely feels like a huge accomplishment.
7. She Was On The Track & Field Team
Darianka may not seem like the type of person who would be interested in competitive sports, but looks can be deceiving. Cheerleading isn't the only sports team Darianka was a part of during her time in high school. She was also on the track & field team where she competed in the high jump.
8. She's A Private Person
Despite the fact that Darianka has built up a huge social media following and she uploads new content on a regular basis, she still enjoys keeping lots of her personal information to herself. Most of what she posts is strictly for entertainment purposes and not for her followers to get to know her better.
9. She May Be Relocating To L.A.
Los Angeles is one of the most popular places for people looking to pursue careers in entertainment, and that includes social media stars. Since talks of her joining the Hype House were on the table at some point, there's a good chance that Darianka will relocate to Los Angeles if she hasn't already.
10. She Loves Working On Her Tan
Darianka is a true Florida girl through and through which means she loves hanging out in the sun and getting a tan. Although things are getting increasingly busy for her, she still likes to make time to get outside and catch some rays. If she does end up moving to Los Angeles, the good news is that she'll be able to get plenty of sun there as well.
Tell us what's wrong with this post? How could we improve it? :)
Let us improve this post!