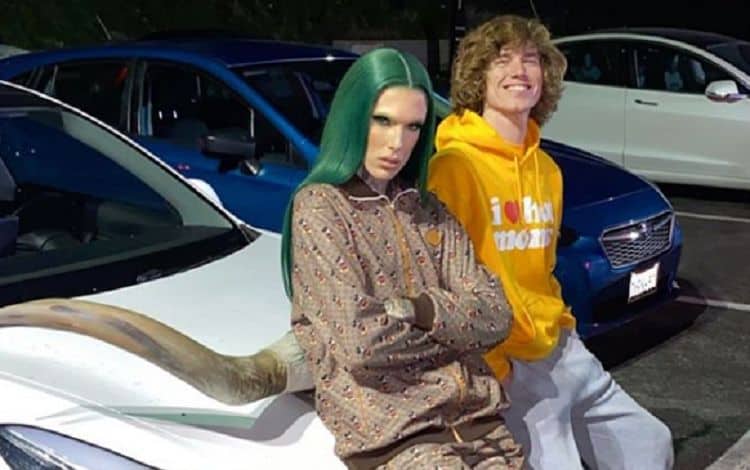 Danny Duncan is yet another modern-day celebrity who has gained fame through his use of YouTube. Since 2014 Danny has posted videos on how to care for ankle injuries, videos filled with pranks, and on skateboarding, for which he has gained most of his recognition. The 27-year-old has been very enterprising in these ventures, and they have proven to pay off for him in spades. Danny has literally gotten famous due to his videos and the fan base they have garnered.
So, why don't we all know more about him? Well, if you're not into skateboarding you may not have had occasion to look him up, and certainly he wouldn't have been discussed in your social circle. But the fact is that this young man is well-known among those who are into the same pastime as he, and who knows where his fame will take him? For all we know, he may end up a much bigger celebrity than we give him credit for.
Let's check out more about this motivated YouTuber. Since all we really know is that he likes to skateboard and knows how to help an ankle mend, we thought it would be prudent to find out more about him as a person. Below is our list of ten things you (and we, by the way) didn't know about Danny Duncan. Let's check out the information and see how interesting he really is…OFF the board.
1. Early Life and Education
Danny Duncan was born on July 27, 1992 in Englewood, Florida to his mother, Susan; his father and mother are separated. He also goes by the name Garry Winthrope. Danny also has a sister (name not available) and a brother, Mathew. He graduated from Lemon Bay High School in Englewood, Florida.
2. Career Paths
After graduation Danny got a job at Walgreens, but disliked the position and quit after only a few months. Not much information is available as to what Danny did directly after quitting that job, but we do know that he started his YouTube channel in March of 2014 at the age of twenty-one. Today, his channel has more than two-million subscribers and is his primary source of income. One of his most popular videos, entitled 'Falling with 30,000 Pennies', has racked up more than 15 million views. Danny hopes to become an actor, and believes that YouTube has the potential to give him the start he needs to accomplish that goal.
3. Earnings and Net Worth
While there are those out there who give no credence to earning a living from YouTube videos, we have to say there is a reason these people get famous. Danny earns more than $700 per day from his videos, for a approximate monthly total income of $21,600. His net worth is estimated to be at more than $1.3 million. I think we can all agree, that's nothing to shake a stick at, considering that 'work' mostly consists of sharing his knowledge on video…not too shabby.
4. Friends and Associates
It seems that people make more than money when they YouTube for a living. Danny is close friends with fellow YouTubers Christopher Chan and Andrew Hill, according to Thefamouspeople.com. YouTube has opened many doors for him in many areas of his life, so hopefully it will open the doors that he wants it to open.
5. Life After Walgreen's
At some point after his Walgreen's gig Danny got hired to train Jason Lee, the actor, presumably in some skateboard moves. Lee took notice of Danny's sense of humor and suggested he get into acting for himself, even telling him that YouTube was a good way to get the ball rolling. Danny took his advice, obviously, and proceeded to put out his first video. That video gave viewers an idea of what he planned to record for them regularly, sort of a sample taste. While he put out prank videos and other topics later on, that was the gist of how he got started and how he got where he is today.
6. What Motivates Him?
Sure, Danny could have settled on that job at Walgreen's, but he didn't. So, what was it about life that spurred him on to bigger and better things, if anything? Well, as it turns out, Danny's parents divorced when he was young, and as a result he and his siblings watched their mother struggle to make ends meet. This was all he needed to get him moving in life. One of his YouTube videos, 'Surprising My Mom With A New House!' shows his heart for his mother, and is quite touching indeed.
7. Other Social Media Site Activities
Besides YouTube, Danny is also active on Instagram and Twitter. He can be found on Instagram at @dannyduncan69, and he can be found at @dannyduncan69 on Twitter. He boasts 1.5 million followers on Instagram, and approximately 140k on Twitter. Danny is also active on Facebook.
8. Future Goals
Danny is not only an aspiring actor using YouTube to break through, he is also a musician. As of the date of this writing, he has one single he can take credit for, and there is more on the horizon. So, we can likely expect to hear much more from him in both the film and music industries as time passes and this enterprising young man progresses in his career.
9. Relationship Status
Up to this point in Danny's life as a celebrity, he hasn't spoken publicly about being in any relationship, other than to say that he has had two girlfriends in his life. While we are unable to confirm a current relationship, the YouTube sensation was romantically associated with another YouTube star, Lindsey Bell, at one time. While the duration of their relationship is unknown, it is said that they likely split up in 2015. We assume that Bell was one of the two girlfriends he was referring to before.
10. Zodiac and Star Sign Traits
As we've mentioned, Danny was born on July 26, 1992, which makes him a Leo. Appropriately enough, Astrology.com (https://www.astrology.com/leo-man.html) describes the Leo man as being 'the zodiac's king of the jungle'. This lion-man will find a way to draw attention regardless of the situation (fitting, or what?)! We can all bet that, while Leo's may seem relaxed and carefree, they have their eyes on everyone, and they are attentively measuring the amount of attention they are getting. Well, when it comes to Danny Duncan, we would have to agree with all points.
Well, we covered an interesting individual here today, wouldn't you say? Danny Duncan seems to be a very motivated, driven, and creative individual with a big heart and a love for his family that we should all admire. We hope that his YouTube endeavors aid him in achieving all of his goals, and that we will see much more of him in the future!
Tell us what's wrong with this post? How could we improve it? :)
Let us improve this post!