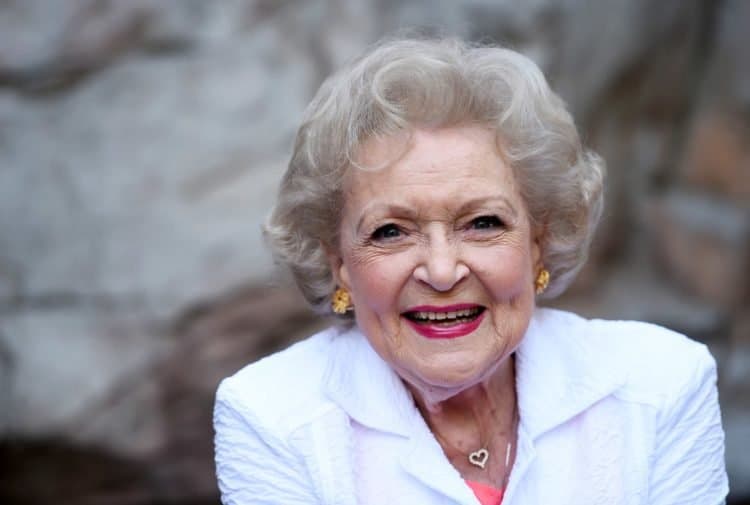 Betty White, the legendary TV actress and comedian, would have turned 100 years old on January 17th. Sadly, she passed away right before New Year's Day. White was set to celebrate her 100th year on Earth with friends in the industry at a party that was already in the works, but she died two and a half weeks before her actual birthday. Her official cause of death is listed as natural causes. With over 90 years of experience in the entertainment industry, Betty White has definitely seen a lot. Her longevity, not just in life but in maintaining a strong and constant presence in pop culture, speaks to her talent and ability to thrive in the ever-changing world of show business. Writing about the actress' legacy, Today took note of how she defied the norms of show business during her time. "It would be easy to make the blanket statement that White is a legend. It's true, of course, but it's why that makes her unique in the history of television because, while it may not be obvious, White was also an innovator in feminism, with her work on "The Mary Tyler Moore" echoing who she was." Betty White's legacy deserves to be preserved in a major biographical film. If movie execs decided to develop a biopic on the late funny woman, here are a few casting recommendations for who should take on playing Betty White in front of the camera.
Jessica Chastain
Top on our list of actresses who should portray Betty White in a biopic is Jessica Chastain. The actress caught everyone's attention with her masterful portrayal of disgraced televangelist Tammy Faye Bakker in the biographical drama The Eyes of Tammy Faye, for which she received widespread acclaim. Interestingly, the movie isn't her only foray into biopic territory, making her a good candidate to take on Betty White on screen. She's played activist Caroline Weldon in the movie Woman Walks Ahead, entrepreneur Molly Bloom in Molly's Game. and writer Antonina Zabinska in The Zookeeper's Wife. Other notable performances of Jessica Chastain include The Help, Zero Dark Thirty, It Chapter Two, and Jolene, which was her film debut. Chastain is set to appear in the upcoming movie The Good Nurse, a movie about American serial killer Charles Cullen.
Emma Stone
Another actress who would excel in portraying Betty White on screen is Emma Stone, who already boasts a few excellent biopics under her belt. She appeared in the widely acclaimed movie The Favourite as the real-life courtier Abigail Masham. She also portrayed tennis legend, Bille Jean King, in the movie Battle of the Sexes, opposite Steve Carell. When she's not playing real people in front of the camera, she appears in major blockbuster movies. She's appeared in Zombieland and Zombieland: Double Tap, Cruella, La La Land, Easy A, and The Amazing Spider-Man and The Amazing Spider-Man 2. Remarking on her readiness to take on challenging roles, Emma Stone divulged to Interview Magazine and Diane Keaton: "I feel more ready than I ever have to do something incredibly different and challenging and scary. I think because I just played Sally Bowles [in the Broadway revival of Cabaret]. You know, because you started on Broadway, there's something about having to go up and do it every night, no matter how you're feeling, having to tell the whole arc of a story and not just scene by scene the way that you do on film. I feel more like I understand acting in a different way. It's totally different when you're shooting something. But only in the past six months to a year have I felt like I can really try these different things. I think I was really scared of that for a long time. And if something was really challenging, I thought that I was just going to fall on my face and embarrass myself. I'm just less scared of that now, of failing." This should provide us with some insight on whether she'd be willing to tackle Betty White's intimidating legacy on screen.
Anne Hathaway
Anne Hathaway would surely do a great job portraying the late funny woman on screen. Anne Hathaway has appeared in some of the highest-grossing movies in Hollywood, including The Dark Knight Rises, Les Miserables, The Devil Wears Prada, and Ocean's 8. While she doesn't have a lot of experience playing roles in biographical films, her acting versatility should make taking on Betty White on screen an intriguing challenge for Anne Hathaway. From silly characters in The Princess Diaries to serious ones in Interstellar, Hathaway should be able to tackle Betty White's legacy to perfection.
Bryce Dallas Howard
Bryce Dallas Howard seems to have the right amount of pep and energy to play a young Betty White, if ever the opportunity lands on her agent's desk. Howard has appeared in both Jurassic World and Jurassic World: Fallen Kingdom. She's also appeared in movies like The Help, 50/50, and Gold. Howard doesn't have a lot of biopic experience, which should make portraying Betty White on screen an interesting challenge for the actress.
Meryl Streep
If movie execs plan to cover Betty White's career around the time The Golden Girls was on the air, Meryl Streep would be the best actress to play her. Meryl Streep has a lengthy list of biopics in her repertoire, most of which has received critical acclaim. She played publisher Kay Graham in The Post, singer Florence Foster Jenkins in Florence Foster Jenkins, activist Emmeline Pankhurst in Suffragette, British Prime Minister Margaret Thatcher in The Iron Lady, and legendary chef Julia Child in Julie & Julia. But even without the biopics to boost her acting credibility, Streep's filmography is enough to testify to her acting talents, which should make portraying Betty White on screen a breeze. She's played roles in Kramer vs. Kramer, Sophie's Choice, and The Devil Wears Prada. White and Streep actually has a close connection. In 2012, Betty White adopted a snow leopard in honor of Meryl Streep. "Meryl Streep is such a wonderful woman who has given so much to our generation and we wanted to give her a gift as unique and rare as she is," said White, according to BusinessWire. "We know she will fall in love with our Snow Leopard, just like we did." Interview Magazine took note of how Streep directs her career, which should provide us with some insight on how she is going to approach a potential Betty White biopic: "My attitude is, Why not try this? So I go from thing to thing like any actor does, with my little bag, my dopp kit. I think of my career as a palette, a mess of colors, and I've used them all before. But they're recombinant–and that's what enables you to make a new person each time."
Tell us what's wrong with this post? How could we improve it? :)
Let us improve this post!