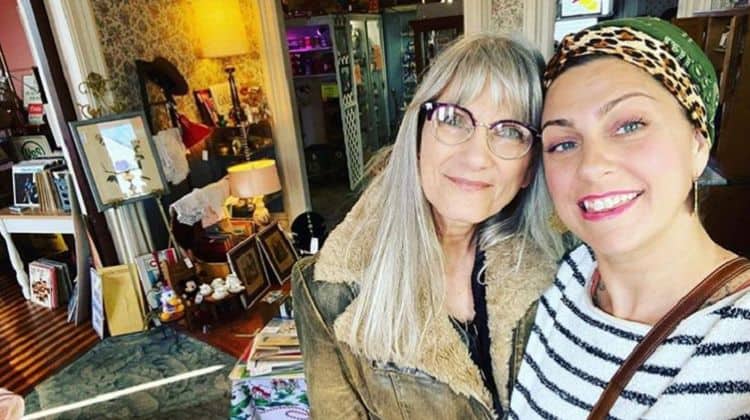 Danielle Colby is best known for her appearance on the reality television series "American Pickers." The show features a group of antique collectors who go across the country in search of valuable antique items for resale and display in their shop Antique Archaeology. She appears with co-stars Mike Wolf who asked her to come on board with the shop prior to the agreement to develop the television series. She is a very interesting person and there are a lot of things about her that most fans are not aware of. She has a rich back story and to help you know her a little better, here are 10 things about Danielle Colby that we're pretty sure you didn't know.
1. She is a native of Iowa
Danielle was born in the city of Davenport, Iowa. Her birthday is on December 3, 1975. She will be 44 years old shortly. She was raised as a Jehovah's Witness in a strict household. This is a religion that does not allow the celebration of popular holidays including Christmas, New Year, Halloween, or birthdays either. As Danielle grew and matured she would form her own opinions of the world around her.
2. She is currently divorced
Danielle Colby met and feel in love with an Englishman named Robert Strong. The couple was married in 2004. They had two children together. During their marriage, Danielle's career in television elevated her to celebrity status. This was something that made it hard on the marriage and her fame and notoriety were things that Robert had difficulty dealing with. In the end, it was the thing that led to the breakup of their marriage and the relationship simply didn't work out. This left Danielle as a single mom.
3. She's a roller derby athlete
Danielle was a member of the female roller derby team called the Big Mouth Mickies. She was active in the sport for a total of three years but she had to stop participating because of an injury. She is still the owner of the team. Danielle has always been an athletic type of person and she enjoys being involved in the action in as much as her physical body will allow.
4. Danielle Colby is a burlesque dancer
Danielle attended a Margret Cho burlesque performance and he was so taken with the performance that she developed a burning desire to become a dancer herself. She was living in Chicago, Illinois at the time of the performance and she moved back to Iowa and created her own professional burlesque troupe which she named Burlesque Le Moustache. She brought nine performers onboard and she also joined the team adopting the stage name Dannie Diesel. The trouped toured throughout western Illinois and eastern Iowa.
5. She is the owner of an academy
In October of 2014, Danielle Colby became the owner of Dannie Diesel's Bump n' Grind Academy. It is a burlesque academy for those who want to become proficient in this type of dancing. Her business is located in the Rogers Park area in Chicago. When Danielle has performed she's been known to show a lot of skin. This is something that she's not shy about in the least.
6. She had a failed business in 2013
Danielle also had an interest in retro fashion clothing. She has made a habit of creating a new business out of something that she is passionate about. Danielle is a spontaneous person who believes in living life to the fullest and pursuing your dreams. She cannot be accused of not trying. She opened the 4 Miles 2 Memphis clothing company which opened in January of 2013. She was the owner and operator of the Wicker Park business. It was a great idea, however, the business didn't thrive and within a year it was closed.
7. With Danielle what you see is what you get
We learned that Danielle Colby doesn't act for the camera. She maintains her own personality and it shines through loud and clear. She is usually bubbly and full of energy and optimism. What you see on camera is how she is every day of her life. She doesn't feel the need to pretend to be someone that she is not. She is one of the most genuine reality television stars on TV these days.
8. Her children keep her feet on the ground
Colby is an energetic lady and she has a great many interests that she pursues, but there are two things that keep her feet firmly planted on the ground. These are her son and her daughter. She is a mom over and above everything else. Her children have even drawn some of the tattoos that she sports on the show. Her son drew a circle and her daughter drew a heart.
9. She's known as the "Queen of Rust
Mike Wolf invited Danielle to come on board in his Antique Archaeology business and run the office. She was hired as the office manager prior to the "American Pickers" television show being picked up by the History Channel. Danielle has a tremendous talent for talking to people and when Mike is out on the road looking for places to pick for new finds, she is busy behind the scenes scouting for places on their travel route. She talks with people from all walks of life who have interesting collections for the guys to visit while filming them in action as they negotiate for the acquisition of antiques for the business.
10. Danielle is a big-time punk fan
As if you couldn't tell by her appearance, Colby has long been a fan of a rebellious movement called punk. She is very much an individual who believes that each of us has the right to live our lives in whatever way that we choose. For Colby, punk is the counterculture that she identifies with and it's something that she truly loves. She's into a lot of different British Celtic punk bands and you can tell by the merchandise that she sells that it's something she's really into. She also enjoys diving into a good mosh pit every now and then.
Bonus: She is a philanthropist and humanitarian
Danielle Colby has a big heart and she cares very much about the well being of others. She has spent a great deal of time helping with the relief work that is ongoing in Puerto Rico. You can see proof of this on her Instagram account. She also helped out wtih relief efforts for the victims of Hurricane Irma. She has donated a lot of time, publicity and her own money to help several charitable causes throughout her life.
Tell us what's wrong with this post? How could we improve it? :)
Let us improve this post!