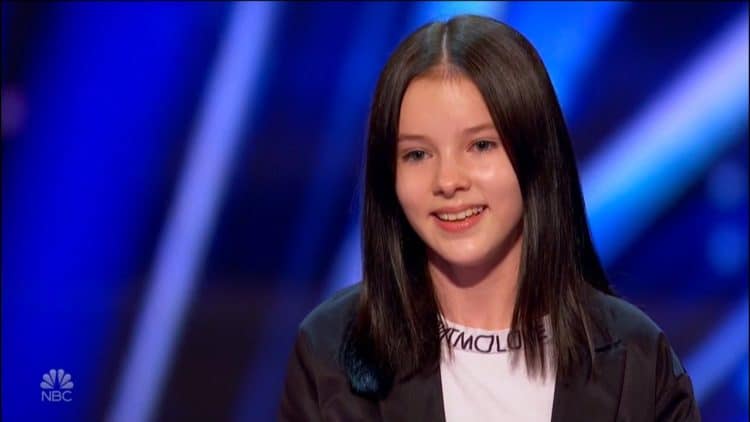 Daneliya Tuleshova is only 14-years-old, but when she starts singing her age becomes a non-factor. Her powerful voice has gotten her lots of attention over the years, and it recently got her a chance to perform in front of the judges on America's Got Talent. Since there are always so many singers who compete on AGT, it can be one of the hardest categories to impress the judges in. However, Daneliya didn't hesistate to step up to the place and accept the challenge. The entire panel was nearly speechless after Daneliya performed a cover of Harry Styles' "Sign of the Times." Keep reading for 10 things you didn't know about Daneliya Tuleshova.
1. AGT Isn't Her First Competition
Despite her young age, Daneliya is already a vet when it comes to singing competitions. In 2017, she won The Voice Kids Ukraine. In 2018, she went on to compete in the Junior Eurovision Song Contest. She also competed on the short lived competition show, The World's Best.
2. She Was Born In Kazakhstan
Daneliya was born and raised in Kazakhstan and she is very proud of her country. In fact, she was the first person from Kazakhstan to compete in the Junior Eurovision contest. During an interview with a local media outlet, she said, "I want people to know that Kazakhstan is an unbelievable, wonderful and hospitable country!"
3. She Began Her Career As A Dancer
From an early age, it was clear that Daneliya was meant to be a performer. She started off taking ballroom dance lessons and it didn't take her long before she was able to start competing. She also began singing during this time and her focus eventually shift to solely focusing on her vocal.
4. She's A Big Beyonce Fan
Beyonce is one of the biggest stars the world has ever seen. Over the course of her career, she had entertained countless people and her talent has inspired generations of entertainers. Daneliya loves Beyonce's work and said in an interview, "Beyonce is my queen." Other artists who Daneliya looks up to are Ariana Grande and Cardi B.
5. She Has An Impressive Following On Social Media
In a lot of ways, Daneliya's career is just getting started, however, in other ways, she's already made some serious strides towards superstardom. She has gained recognition all over the world and her social media following certainly reflects that. At the moment, she has 468,000 followers on Instagram. There's no doubt that number is going to increase as she continues to make progress in her career.
6. She's Always Dreamed Of Being On AGT
Even though she's done other competition shows in the past, getting the chance to perform on America's Got Talent has always been a dream of Daneliya's. There were times when she didn't think she would make it, but now she can finally say that her dream has come true.
7. She's Bilingual
Daneliya's English vocals are so clear that some people may be surprised that she speaks with an accent. She is actually bilingual and can speak both English and Russian fluently. This can definitely give her a competitive edge in certain situations as many judges will likely be impressed by her ability to switch it up. When she isn't singing, it appears that she primarily speaks and writes in Russian.
8. She's Been In Harper's Bazaar
On top of everything else she's done, Daneliya also has some modeling experience under her belt. As with singing, she is a true natural when she gets in front of the camera. She an her siblings appeared in a spread in Harper's Bazaar where they modeled some clothing from H&M.
9. A Gymnastics Injury Led Her To Singing
Daneliya got involved with gymnastics at a very young age. Unfortunately, she suffered a serious injury when she was just 4-years-old that forced her to pump the brakes on her gymnastics training. At that point, she began to spend more time working on her singing skills. Although the injury was likely devastating at the time, it ultimately led Daneliya to where she is today.
10. She's Released Her Own Music
She has gotten lots of recognition for singing cover songs, but Daneliya has also worked on music of her own. In 2019, she released a song called "Mama" as a way to show her love and respect for her mother and grandma. Daneliya said, "This is a song about how much I love my Mom and dedicate to all Moms on earth since every person has only one mother and needs to appreciate every moment spent with her!"
Tell us what's wrong with this post? How could we improve it? :)
Let us improve this post!