You gotta hand it to Abby Lee Miller for clearly making the most comical news of the day. The Dance Moms star might want to be worried about prison right now but instead she's making headlines because she just quit the show. Last night Miller took to Instagram to make the announcement and threw in some choice words for the producers and the show's lack of giving her credit for her originality. Here's what she wrote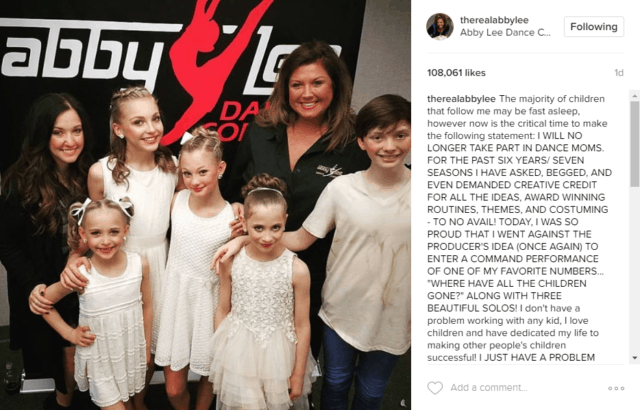 For the past six years/seven season I have asked, begged, and even demanded creative credit for all the ideas, award winning routines, themes and costuming – to no avail! Today I was so proud that I went against the producer's idea (once again) to enter a command performance of one of my favorite numbers…."Where have all the children gone? Along with three beautiful solos. "I don't have a problem working with any kid, I love children and have dedicated my life to making other people's children successful! I just have a problem being manipulated, disrespected, and used day in and day out by men who never took a dance lesson a day in their lives and treat women like dirt!
Turns out that fans were pretty distraught and even considered boycotting the show. But let us not forget that in October, Miller was in court on fraud charges and could be facing up to 5 years in prison. In June she plead guilty to concealing bankruptcy assets and to one count of not reporting an international monetary transaction. Miller even texted her employees: "We have all this foreign cash… Need a little money laundering."
The show looks like it could very well be headed towards cancellation and I have to say, from the bottom of my heart, I have zero sympathy whatsoever for Abby Lee Miller. You've been exploiting kids for long enough. Time to let it all go.
Tell us what's wrong with this post? How could we improve it? :)
Let us improve this post!