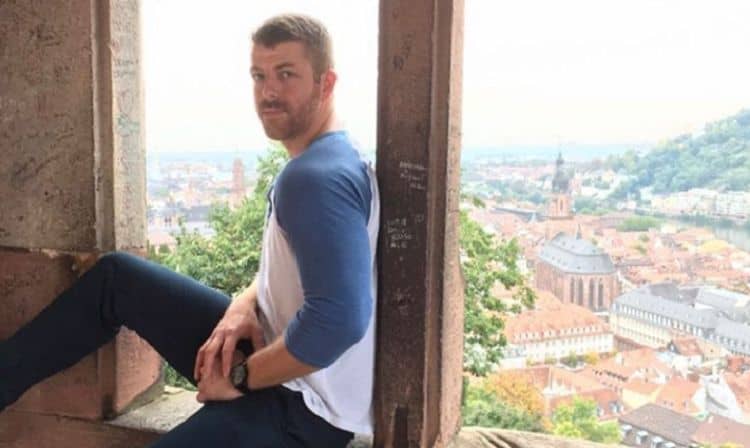 While many fans wait for the final episodes of Netflix's reality series, Love is Blind, they have been left with a lot of unanswered questions. They are especially curious about a particular actor who goes by the name Damian Powers. He recently came to the limelight after getting engaged to an actress and a fellow cast, Giannina Gibelli. Although Powers was in the show right from the start, he went unnoticed as the creators of this program focused on other actors such as Matt Barnett. Powers, however, became the focus of this show in the later episodes when his relationship with Gibelli started unraveling. To let you know more about this actor, here are 10 things you probably didn't know about him.
1. Damian was a General Manager
According to Men's Health, Damian Powers used to be the general manager of Industrial Supplies Company. Although he rarely talked about his profession, he worked at this company for an extended period before joining the reality program. Currently, Damian also works at Brawl for A Cause. The non-governmental organization trains and equips everyday Americans to fight for whatever they believe in. It is directed by a former Love is Blind castmate; Matt Thomas. Brawl for A Cause has previously been involved with famous American athletes Evander Holyfield and Roy Jones.
2. Loves Soccer
A quick look at Damian Powers Facebook profile will show you his love for soccer. He is a strong supporter of Georgia Revolution Fc. an American soccer team that currently plays in the minor leagues of the National Premier Soccer League. Even though he does not play soccer professionally, he used to play soccer when he was younger and his love for the sport has never waned. He still finds time to watch Georgia Fc team play whenever they have a tournament.
3. Listens to Pop music
Just like many Americans, Damian loves listening to pop music. He, however, prefers listening to gospel pop music. One of his favourite bands is Chelsie Boyd, a music band known for releasing excellent gospel pop music. Additionally, he also loves Alex Christie, who is a songwriter and composer of both classical and pop music.
4. Loves Traveling
Despite going off on social media from 2017 to 2019, recent Instagram photos of Damian Powers show that he has been travelling a lot. To be precise, he has visited over five countries in the past year alone. All of his photos have been geotagged, a clear way of showing his followers that he loves travelling. In total, he has been in the following countries; Portugal, Amsterdam, Germany, Switzerland and the Czech Republic.
5. Damian is Photogenic
For a guy who has just proposed and is waiting to be married, Damian posts a lot of photos. In these photos, Damian is shirtless and clearly shows off his bulging biceps and well-set apart six-packs. Most of his female fans cannot not help but drool over his photos. For instance, if you look at his Instagram page, you'll be forgiven to think that this guy is still single and searching for a partner. But, as we already know, Damian is soon to be married to Gibelli.
6. Damian is a Cinephile
Damian loves watching movies. Some of his favorite movies include 'Hangover', 'Charlie St. Cloud' and 'Sons to The Grave'. Although he never really wanted to be an actor, his love for films and production was one of the reasons that made him become an actor of Love is Blind.
7. Lives in Georgia
Despite being popular, Damian is a private guy who doesn't share a lot about his personal life. But, a closer look at his Facebook page reveals his current location. Damian, for this sake, lives in Locust Grove, Georgia. Additionally, he has lived in Georgia since his teenage years.
8. He Grew Up in Germany
Damian Powers grew up in Heidelberg, Germany. According to Bustle, Damian speaks of how amazing it was returning to a country that he grew up in. Additionally, he posted a photo of the street he grew up in Germany. In the photo, you can see a marvelous view of the city he calls home.
9. Damian is a Risk Taker
Like getting married isn't risky enough, Damian proposed to Gibelli after dating her for only a week. Although Damian's proposal to Gibelli caught many fans by surprise, fans couldn't help but adore him for proposing. However, his relationship with Gibelli has been rocky since his proposal. The couple has had many fights on air about issues affecting their relationship. Most recently, the couple was involved in a huge fight due to their differences in political affiliations. The fight resulted in a mistrust situation between them and their families. As a result, Damian's family refused to visit Gibelli's family. Many fans of Love is Blind were left in suspense as they tried to contemplate on the next step the couple would take after the fight. Despite this, Damian's wedding to Gibelli is still on.
10. He Loves Pizza
One of Damian's favorite dishes is Pizza. He adores eating Pizza, especially from Graffiti's Pizza – a Greek tavern restaurant located in Georgia. Apart from being a regular customer, Damian loves posting photos of him enjoying Pizza from this restaurant.
Final thoughts
Most fans who watch Love is Blind have been left with one question in mind, will Gibelli marry Damian or not. Whether he gets married or not, many of his fans will still adore him as he has been one of the most exciting actors in the reality show. As the final episodes of this show will be aired very soon, maybe we might get to see the couple as wife and husband in the episodes to come. However, that will only be possible if the love and bond between them is strong enough to weather the relationship challenges we've witnessed.