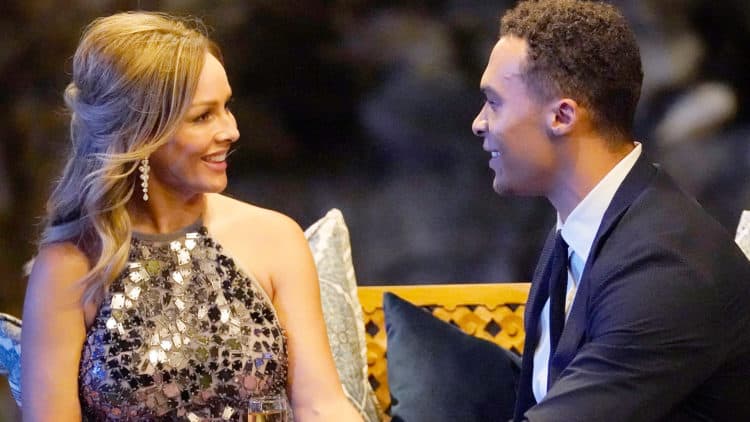 With season 16 of The Bachelorette finally under way, fans are excited to have something new to keep them entertained as the pandemic continues to alter life as we know it. Even though it's still very early on, former football player, Dale Moss, is off to a strong start. Clare seems to really like him and it's easy to see why, he's athletic, charming, and easy on the eyes. Viewers aren't sold just yet though. Could Dale be too good to be true? Or even worse, could he simply be using the show as an opportunity for himself? Only time will tell, but for now Dale is doing his thing and doing it well. Keep reading for 10 things you didn't know about Dale Moss.
1. His Uncle Was A Heisman Trophy Winner
Dale isn't the only person in his family who had an impressive football career. His uncle, Johnny Rodgers, won the Heisman Trophy in 1972 while playing for the University of Nebraska–Lincoln. After college, Johnny went on to play professional football in Canada because returning to the United States for a short lived NFL career.
2. He Is An Ambassador For The Special Olympics
Dale has been a global ambassador for the Special Olympics for several years. He was inspired to work with the organization because of his older sister who has mental and physical disabilities. She was once a participant in the Special Olympics and Dale has fond memories of her experiences.
3. He Is A Model
Being in front of the camera is something that comes natural to Dale. That combined with his good looks has made him the perfect fit for modeling work. According to his website, he has gotten the chance to work with major brands although the specific names are not mentioned.
4. He Aspires To Be Like Ryan Seacrest
In addition to modeling and his career in the NFL, Dale has also worked as a TV host, and there's one famous host he really hopes to be like. During an interview when discussing his career, Dale said, "I think how Ryan Seacrest has built a brand and really an empire is really amazing, and I would love to model my career after him." These comments have made a lot of people feel like he didn't come to The Bachelorette for the right reasons.
5. He Was Also A Talented Basketball Player
Football is the sport that Dale is best-known for, but he has always been a talented all around athlete. During his time at South Dakota State University, he attended on a full athletic scholarship and was also a member of the basketball team. Before college he was also a track star.
6. He's Motivated By His Family
Everybody needs something to make them want to keep going, and Dale has been lucky to find that inspiration close to home. He ale has a close relationship with his loved ones and cite his family as the thing that has always motivated him to do his best. The fact that he is family oriented will likely also be another quality about him that Clare likes.
7. He Is A Brand Ambassador
Even prior to The Bachelorette, Dale had a pretty impressive following on Instagram. Having a large following has made him an attractive partner for brands looking to market their products. He is currently a brand ambassador for several companies including Chameleon Cold-Brew and Core Power.
8. He Is Biracial
Dale was born to a Black father and a white mother. His parents, who were married for 40 years, suffered lots of discrimination in the early days of their relationship because they were an interracial couple. Sadly, it appears that Dale's mother passed away some time in 2020.
9. He Likes To Spread Positivity
Dale has always been the type of person who enjoys bringing joy into other people's lives. Even though being positive isn't always easy, he does his best to see the bright side and spread that feeling to all of the people he encounters. This is yet another one of his qualities that could make him seem even more attractive to Clare.
10. He Is Passionate About Working With The Youth
Working with young people is especially important to Dale. He is a firm believer in the idea that young people are the future and he wants to do everything he can to set them up for success. One of his goals is to "continue to advocate for youth development." As his platform continues to grow, he will surely have many opportunities to work with the community.