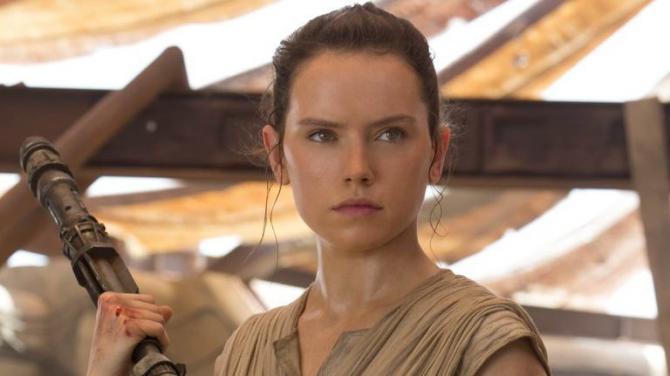 If there's one person out of many that can be said to have been a breakout star in the last several years then Daisy Ridley's name would have to be up for the nomination. Ever since she took on the role of Rey in the newest Star Wars trilogy she's been on the minds of many fans and has been one of the strongest characters in the new movies. It doesn't matter if there are those that willingly tear down the movies piece by piece and say that they're not worth anything, she's one of the people that have made it memorable and managed to give people a new hero to cheer for. The fact that we do or don't know about her past at this time is kind of vexing but Daisy has continued to play the part of Rey in a manner that is both naive in some respects but strong when it comes to her willpower and determination to see that the Jedi continue. Aside from that she's been a very interesting person to watch since she came onto the scene.
Here are a few things about her you might not have known.
1. At the time she was cast as Rey, Daisy was considered to be entirely unknown.
She'd starred in a few productions over in England but nothing so major that she would be a worldwide figure of renown. That changed quickly however when Star Wars: The Force Awakens came out. Soon enough Rey was a household name as the movie was pushed nearly everywhere it could be.
2. She's been trained as a dancer as well.
This could have been a great bit of help in her training since she had to undergo a lot to become Rey and to make sure that she was convincing as not only a character but the scavenger and fighter that she had to be in order to survive.
3. When Prince William and Prince Harry visited the Star Wars set she was assigned to show them around.
It could have just as easily been John Boyega or someone else that was selected to show them around, but there had to be a reason why Daisy was considered for the task. As much as Boyega means to the films Daisy is after all one of the main stars that drives the whole story.
4. Daisy cried the first time she saw The Force Awakens.
You can imagine she was crying because she was happy and that she'd done something that would help to continue a story that has been in existence since the late 70s, but there's also a good chance that she was crying because the experience was just so overwhelming as well.
5. Before becoming a big star she was a bartender in London.
To be honest Daisy barely looks old enough to even be in a pub, but being born in 92 she's easily old enough and no doubt was considered skilled enough to put behind the bar. One thing she's definitely got that worked in her favor is that she's a very attractive woman, and like it or not, sexist or not, female bartenders do tend to pull in a lot more business if they're good at what they do and enjoy the job, or at least look like they do.
6. She tried being vegan for a while but it didn't pan out.
After trying it for a little while she decided that it wasn't quite for her since she still enjoys a few things that come from animals. She went back to eating fish and she does enjoy having honey in her tea, so being vegan is not her thing really.
7. Despite being a good singer she happens to think it's one of her worst qualities.
Isn't that usually how it happens? People try to tell you that you're good at something and whether you are or not your opinion is usually that you're not since you happen to know yourself better than that, you hope.
8. According to the choreography team she managed to master lightsaber skills that normally take a few days in less than a couple hours.
It only took her about 90 minutes to pick up routines and techniques that typically take about two to three days for a lot of people to become proficient in. That's either a lot of dedication or some serious skill.
9. She was at a play with a friend when she found out that she got the part for Star Wars.
Imagine having to sit through a whole play and not tell your friend until the very end. She received and email and phone message from J.J. Abrams and had to keep it in for the duration of the play she was at.
10. Daisy has fully enjoyed her time with Star Wars at this point.
She's really embraced the character of Rey and has managed to enjoy everything about the experience so far. It's another job no doubt, but it's one that she and many others will remember for many years to come.
11. Her Favorite Movie As a Child Was Matilda
As a child, Ridley's favorite movie was Matilda. For people who are unfamiliar with the name, it was based on one of the children's books written by the British novelist Roald Dahl. Even now, Dahl is considered to be one of the 20th century's greatest storytellers for children, not least because his stories are famous for their mix of darkness with humor as well as their lack of mawkishness.
12. The Titular Character Was Her Role Model
On a related note, Ridley considered the titular character of Matilda to be her role movie. In short, said character is a little girl with a strong passion for learning, a strong sense of Independence, and telekinetic superpowers. At the start of the book, she is treated in a terrible manner by her family, but by the end, she has managed to use her superpowers to correct the wrongs that she see around her, with the result that she winded up being adopted by her kind teacher Jennifer Honey, who suffered as a child as well.
13. Her Casting for Star Wars Was Seen As an Echo of the Casting for the Original Movie
Ridley being cast for Episode VII was seen as an echo of what had happened with the casting for the original Star Wars movie. As started earlier, she was an unknown at the time, which was very much the case for the main cast members for the original Star Wars movie as well. As such, there were a fair number of people who couldn't help but make comparisons between the two situations.
14. Has Done Some Voice Acting
Besides live-action roles, Ridley has done some voice acting as well. For instance, she was one of the actors who lent their voices to the English dub of the Japanese animated movie Only Yesterday, which didn't come out until 2016 even though the original version was released in 1991. As for the content of the movie, well, suffice to say that it is about a Japanese woman named Taeko Okajima, who struggles with a certain wistfulness for her childhood when visiting family members in the rural countryside. As such, it should come as no surprise to learn that the movie was targeted towards adult women in particular, seeing as how it addressed adult issues.
15. Has a Tattoo of the Alchemical Symbol of Air
Ridley has a total of three tattoos. One of the three is a tattoo of the alchemical symbol of air, which would be an upward-point triangle with a line crossed through it in a perpendicular manner to its base. In previous centuries, alchemists found it useful to denote certain things using alchemical symbols, meaning that it is an example of shorthand.
16. Suffers from Endometriosis
Ridley is one of the women out there who suffer from endometriosis. In short, it is when the tissue called the endometrium that is supposed to line the uterus starts growing in other places. This is a serious problem because the endometrium will still thicken, break down, and then start bleeding even when it isn't in the uterus, meaning that it will cause further complications because it will have nowhere to go. The medical condition can make for very painful periods, which are in addition to other potential problems.
17. She Suffered Low Self-Confidence Because of the Diagnosis
Speaking of which, Ridley suffered low self-confidence for a time following the diagnosis of the medical condition when she was still at the age of 15. In part, this was because it was followed up by acne.
18. Big Fan of RuPaul's Drag Race
It is fun to note that Ridley is a big fan of RuPaul's Drag Race. In fact, she is such a big fan of the show that she actually dressed up as Trinity K. Bonet for one Halloween.
19. Big Football Fan
Considering that she is an English actress, it is perhaps unsurprising to learn that Ridley is a big football fan, which is to say, association football rather than American football. In particular, she is known to be a fan of Arsenal F.C., which is based out of the London Borough of Islington.
20. New Member of the Oscar Voting Panel
Ridley is one of the more than 900 individuals who managed to make it onto the voting panel for the Oscars as new members in 2018. Said individuals were specifically chosen with more diversity in mind, which was meant to help the Oscars avoid a repeat of 2015.
Hopefully this will continue to elevate her career, as she's shown that she's worth watching.
How Daisy Landed the Part in Star Wars
The main reason that Daisy Ridley was about to land the part of Rey in the Star Wars franchise is pretty simple, Abrams stuck to at least one part of a winning formula. He wanted to cast unknowns to star in the movie, people that one had ever seen before. George Lucas did this with the original trilogy with Luke, Leia, and for the most part Han. They'd all been seen before technically but had never done something quite as big as Star Wars, and this was the same case for Ridley. She'd already had plenty of work onscreen but nothing had ever catapulted her to this level.
In fact she was hesitant to even audition since she firmly believed that such a role was miles above where she currently was in her career. It's a daunting prospect really to think that you might be selected for a part in one of the greatest movie franchises ever made. But she went to audition and in doing so got the part of a lifetime, the same kind of part essentially that Mark Hamill received years ago when he first started out in the franchise. Her ship had come in and she was now going to be one of the biggest stars around.
Since then her career has been on a fast track and hasn't shown any signs of slowing down. Just recently she was seen to star in the film Murder on the Orient Express alongside a highly impressive cast, and she'll be starring with fellow costar Josh Gad and Luke Evans in another film designed for Netflix coming in 2018. Ridley's career is growing and growing and there's no way it should be poised to stop any time soon. She's young, possesses a great deal of talent, has the right look, and can adapt to her role quite well. She is a part of the new generation that is slowly but surely taking over as the old guard has to eventually stand up and pass the torch.
It won't happen today or tomorrow to be honest, but Ridley and many others are now coming in force to Hollywood and showing that they have what it takes to carry on the tradition of show business that has been kept alive for so many years. They are capable of bringing a new level of entertainment to the masses and to bringing iconic characters that people will love for generations to life. Rey is a good example of what the current and future legends of film will look like as the current generation of fans continue to grow and find their own heroes to idolize.
Not auditioning for this role would have been one of the biggest mistakes of her young life, and to be quite honest it would have robbed fans, and Ridley, of the chance to explore this increasingly interesting and important character that's been introduced into the franchise. Star Wars' canon might have been changed but at the very least Rey is one of the changes that most people, if not all of them, can get behind.
Tell us what's wrong with this post? How could we improve it? :)
Let us improve this post!