If you're a big TV fan, and especially if you follow TV network ratings, you'll already know the reputation that The CW has compared to the rest of the major broadcast networks. The channel is looked at as a weaker, younger sibling to the "Big Four": CBS, ABC, NBC, and FOX. However, if 2014 proved anything to us, it's not only that broadcast networks are begining to struggle more and more against cable in the battle for viewers' attention but that the "Big Four" aren't exactly the invincible group that people once thought they were. In fact, it's not CBS, ABC, NBC, or FOX that's the best broadcast network anymore–that title now belongs to The CW.
Now, before I continue, I know and understand that The CW is owned by CBS and so that, technically speaking, they're one in the same. Additionally, I know that CBS has the most-watched broadcast network show with The Big Bang Theory, which brings in four times the amount of viewers of any CW series. However, this isn't about money or ratings (although I will touch upon those later); this is about providing viewers with a solid, stable, and incredibly entertaining lineup of television, and The CW does this better than any of the four other broadcast networks.
Just look at the weekly lineup that The CW consistently has set for its viewers. On Monday and Tuesday nights, we have The Originals and Jane the Virgin and then The Flash and Supernatural, while Wednesday nights and Thursdays night give us Arrow and The 100, along with The Vampire Diaries and Reign. Fridays are The CW's weakest at the moment, with a mix of America's Next Top Model and Whose Line Is It Anyway? filling the space most of the time, although Hart of Dixie has aired there before, too, but no network out there airs their most valued shows on Fridays–it's the Monday-Thursday schedule that is most important.
Since it first became an official network back in September 2006, The CW has constantly been searching for its identity. It was a blending of two very distinct networks: The WB, which was known for its family-focused, teen dramas, and UPN, which was really own distinct due to the fact it didn't really have too much of an identity–it was the channel that aired Veronica Mars and Everybody Hates Chris but not much else.
Throughout its first few years, The CW attempted to be both The WB and UPN, and it struggled, producing a mix-and-match of melodramatic high school dramas (anyone remember Hidden Palms?) and forgettable comedies. Now, though, the network has carved out a true identity for itself, and although some would argue that it's the "genre TV network," which isn't exactly wrong (no other channel today has the amount of sci-fi, supernatural, and superhero shows that The CW does), I would argue that it's become the network of the young adult, a channel that consistently provides new and interesting ways to explore themes like identity, family, morality, and, of course, romance through the journeys of its series' protagonists. And by ensuring that these ideas remain important elements in all of its shows, no matter how different they are from each other, The CW has been able to create some of the most entertaining series on television, shows that aren't afraid to be big and operatic but also quiet and reflective.
For example, Arrow, The 100, and Reign, all radically different from one another (one is a superhero show, while the other two are a sci-fi drama and a very loosely-based historical period piece), have had their main characters all question their nature this year, wondering who they truly are as people and if its possible to have two different identities. Arrow explores this idea very literally, with Oliver questioning if he can be both Oliver Queen and his crime-fighting alter-ego, the Arrow. Meanwhile, The 100 makes its characters face the brutality and savagery of life; when all of one's easy and enjoyable pleasantries are taken away, is he or she really just an animal? And Reign has had Mary and Francis wonder if they can truly be committed to one another as husband and wife when they are both queen and king, while they also internally struggle with the temptation to embrace the cruelty of the kingdom's political warfare and, thereby doing, lose any form of innocence they previously had.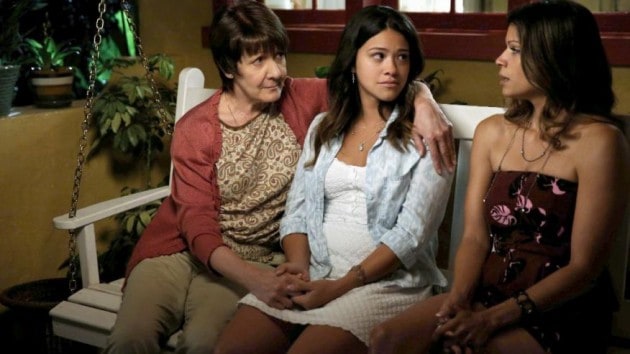 However, engaging with these more serious ideas doesn't stop The CW's shows from being fun, and for proof of that all you need to do is watch either of the network's new fall series. Both Jane the Virgin and The Flash have found ways to embrace the joy of their stories, allowing for their two main characters, Jane and Barry, to feel like real people thrown into crazy situations and for the shows' actors to show off their comedic chops, along with giving solid dramatic performances.
And all this entertainment isn't being watched and enjoyed by a select few. The Flash has been an undeniable hit this fall, giving The CW some of its best ratings in network history, rivaling and even sometimes outperforming other shows on FOX, ABC, and NBC. This ratings boost has also helped Supernatural, which, even in its tenth season, continues to find interesting stories for Sam and Dean Winchester (Jared Padalecki and Jensen Ackles) and is being watched by more viewers than it has been in three years. And perhaps the network's biggest sign of success is the fact that it finally found its way into the Golden Globes this year, with nominations for Jane the Virgin and its star Gina Rodriguez.
With three successfully launched series, all-time best ratings, and more critical acclaim than the network has ever received before, there's no denying the fact that The CW had a great 2014, and it shows no signs of slowing down as the new year begins, with its hit series returning this month and a highly anticipated new show, iZobmie, premiering sometime this spring. If I were a betting man, I'd say that there's a very good chance the best broadcast network on TV is going to get even better in 2015.
Photos via The CW