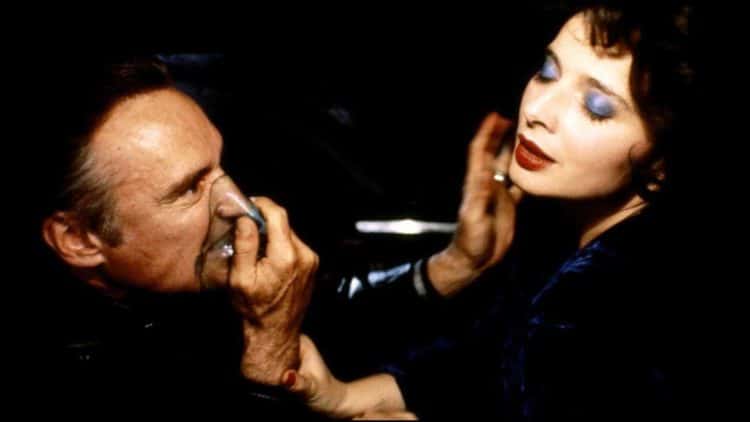 The opening shot of David Lynch's Blue Velvet (1986), is framed with title cards in cursive. This then reveals font in elegant writing against the backdrop of blue velvet fabric; Angelo Badalamenti's CHC-infused, neo-noir score hauntingly gives way to a widening shot so bright and picaresque that it boggles the mind how cinematographer Frederik Elmes was able to light the scene. We see a bright blue sky fall down onto crimson-red roses against the back-drop of a white picket fence. Further shots show a Normal Rockwell-style town that suggests 1950s suburbia even though we come to realize later that the film is indeed set in the mid-1980s (maybe). Then, an elderly man watering his lawn collapses from a sudden stroke as everything slows down and a garbled score of roars and hisses accompanies a deep shot into the grass below to reveal insects cannibalizing one another; Lynch's expose of the American Dream inside of a nightmare is then underway. In the 36 years since its release, Blue Velvet is a film that still defies straightforward analysis and interpretation. It is one of Lynch's most linear film stories, yet its presentation and spellbinding effect manage to take the viewer into another world or, more accurately, a dreamy and nightmarish view of our past and current realities. Let's take a closer look.
Nancy Drew on Psychedelics
Blue Velvet is a film that shocked audiences in the conservative era of Ronald Reagan's America. It's a film that is both neo-noir and unflinching drama; bizarrely humorous at times, yet terminally weird and singularly unique in Lynch's auteurship. Even the film's detractors were unable to deny that the aesthetic and tone of the film were unlike anything ever seen before in mainstream cinemas, perhaps even more surreal than even the greatest of films by Luis Bunuel. What David Lynch was aiming to achieve with this film is unknown since he lives by the code of always letting art do the speaking, but in terms of independent film, Michael Z. Newman described the mid-80s indie films as "being perceived to have certain textual features in common, especially an alternative sensibility eagerly casting its light on themes, topics, and characters not often seen in Hollywood cinema." The film is a mystery in its basic plot trope as a young college kid named Jeffrey (Kyle MacLachlan) comes home to help out his family since his father, seen in the opening shots, suffered a stroke. One day, he finds a severed human ear in a vacant field near his neighborhood and takes the body part to the local sheriff who opens an investigation. Jeffrey and later, Sandy (Laura Dern), the sheriff's daughter, decide to investigate the mystery themselves as amateur sleuths resembling innocent young adults straight out of a 1950s sock hop unknowingly about to discover an underground culture in their picaresque small town full of sadism, masochism, and depravity. What we are seeing feels (and often looks) like a 1950s amateur-sleuth mystery, yet there is no doubt that Nancy Drew or even Andy Hardy would be prepared for the shocking nightmare that was about to unfold before them.
Voyeurism, BDSM, and Kink
When Jeffrey discovers the apartment of lounge singer Dorothy (Isabella Rossellini), he decides to break in to investigate before Dorothy unexpectedly arrives home and Jeffrey quickly hides in her closet. He peers out of the closet watching her as she undresses and is visited by a gas-sniffing madman named Frank (Dennis Hopper) who savagely sexually assaults her as Jeffrey watches from the closet. Lynch positions the audience as the voyeur along with Jeffrey and suggests that darkness resides in immaculate suburbia just as prominently as wholesome artifice. When thinking about subversive elements in independent film, it is crucial to keep in mind the personal, political, and aesthetic agendas that help fire an indie film movement to a place of subversive acceptance. With Blue Velvet, all of these agendas were certainly met, and not only did Lynch capture a brutal societal deconstruction with his often horrific depictions of sexuality, with the character of Dorothy being both the victim and willing accomplice to Frank's abuse, that is to say, but she also enjoyed the pain and found pleasure within it, even though Frank had kidnapped and imprisoned her husband and young son, Lynch also managed to provide a glowingly surreal aesthetic to his film through filmmaking techniques that positions bright colors and dreamy glow in both the picaresque aesthetic of the small town and its "normalcy" as well as brightly-lit, dreamy techniques during the scenes of graphic violence and disturbing evil.
An Indie Film Classic Emerges
So with all of this in mind, the personal, political, and aesthetic tendencies inherent in influential indie films allow this film to be seen as a modern film classic to the present day. Lynch was able to create a film that was deeply personal in subject matter; showing the subversive elements of BDSM culture and voyeurism as tried and true sexual identities and not verboten topics during the AIDS era; this further allowed the formerly unspoken desires that many humans feel, to come to the surface and become viable topics of open conversation. The weird and the bizarre were now in the mainstream, winning awards and Oscar nominations, and Lynch was capable of masking that by promoting the film as a basic noir mystery in a small beautiful town. Audiences were no doubt shocked by what they saw and likely took it personally since they were likely inadvertently moved by practices and behaviors that they never wanted to accept and to become open and present on movie screens across the country. Perhaps some audiences felt guilty at how mocking suffers with HIV/AIDS or, individuals living alternative lifestyles in general in the name of artificial small-town, American values harkening back to the Eisenhower era, perhaps not, but theoretically it could be said that they never looked at small town, Reagan-esque America the same again. Blue Velvet exposed both the obscure and the depraved residing in apartments and houses situated in the bright glow of the blue sky, red roses, and white picket fences that feature even the smallest of insects destroying and competing with one another below the surface. When watching the film, there are truly two main takeaways that viewers can grasp: a compelling mystery, as well as a striking and unsettling examination of the ugly reality of American suburbia. Images of the 1950s suburbia look just as Lynch depicts in this film, but the rot hiding behind the façade was not something accurately portrayed in those times. This is the best American film of the 1980s.